Charting Xi's efforts to turn Winter Olympics a success
Preparation for 2022 Beijing Winter Olympic Games was on top of President Xi Jinping's Spring Festival agenda. Xi, who has emphasized the significance of hosting successful games on several occasions, has visited many cities to ensure that the Beijing games are a success. Let's follow his footprints as we travel down China's Winter Olympics road.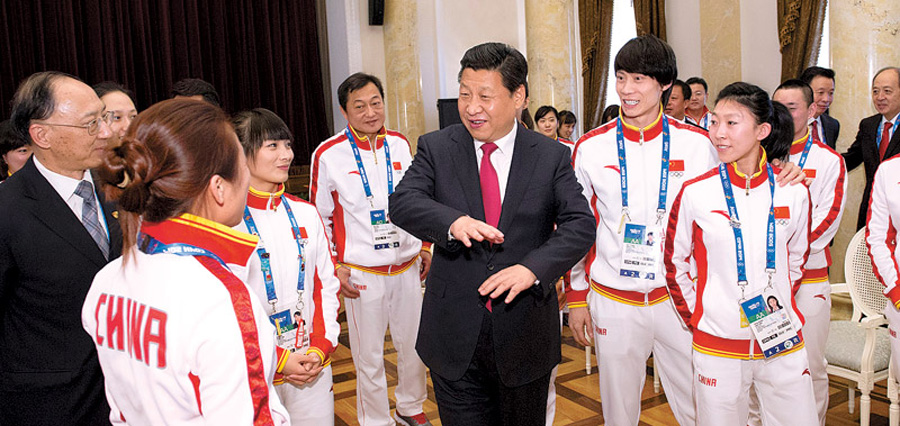 President Xi Jinping shares a light moment with some Chinese athletes taking part in the Winter Olympics in Sochi, Russia. Huang Jingwen / Xinhua
February 2014 Sochi, Russia
President Xi was invited by his Russian counterpart Vladimir Putin to attend the 22nd Winter Olympic Games in Sochi. He visited Chinese athletes and cheered for them. Xi said he is a huge sports fan and loves nearly all kinds of games.
"Sports do us good physically and mentally," he said. "We have successfully hosted the Beijing (Summer) Olympic Games, fulfilling our hundred-year Olympic dreams. Now, we are closer than any time to the goal of realizing Chinese nation's great rejuvenation."
Xi added that every individual's dream, the dream of becoming a sports power, are closely connected with the Chinese Dream. He hoped the Chinese delegation would display its fighting spirit and achieve good results in Sochi.
Chinese Olympic Committee officially announced its bid for the 24th Winter Olympic Games three months before Xi's visit.