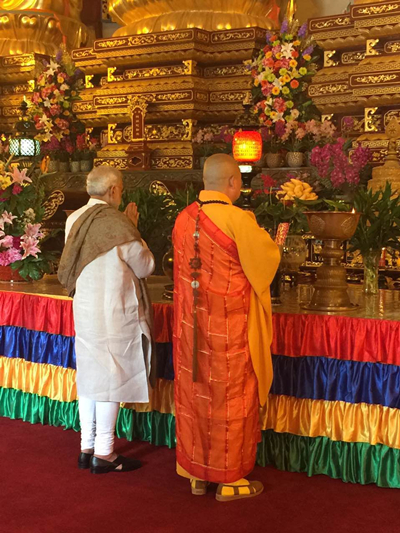 India's Prime Minister Narendra Modi (L) pays a visit to Daxingshan Temple in Ti'an, Shaanxi province on Thursday. [Photo by Li Xiaokun/China Daily]
On his first day in China, India's Prime Minister Narendra Modi paid a visit to Daxingshan Temple and Big Wild Goose Pagoda in Ci'en Temple in Xi'an, Shaanxi province, on Thursday.
During the Sui and Tang Dynasties (581-907), Buddhism prevailed widely in Chang'an (today's Xi'an). Xuan Zang, a seventh-century Chinese monk and traveler, stayed in India for 16 years to seek Buddhist scriptures, translated and spread Buddhist thought.
Meanwhile, many monks from China and India translated Buddhist sutras and promulgated Buddhist doctrines. At that time, the Daxingshan Temple and Ci'en Temple became two of three sutras translation sites, together with Jianfu Temple.
Built in 652 during the Tang Dynasty, Ci'en temple functioned to collect Buddhist materials that were brought from India by the hierarch Xuanzang. Xuanzang, as the temple's first abbot, supervised the construction of Big Wild Goose Pagoda. With the support of royalty, he asked 50 hierarchs to the temple to translate Sanskrit sutras into Chinese, a total of 1,335 volumes, which heralded a new era in the history of translation.
Emperor Akihito of Japan and President Ram Baran Yadav of Nepal visited the temple and spoke with the monks when they were in Xi'an.