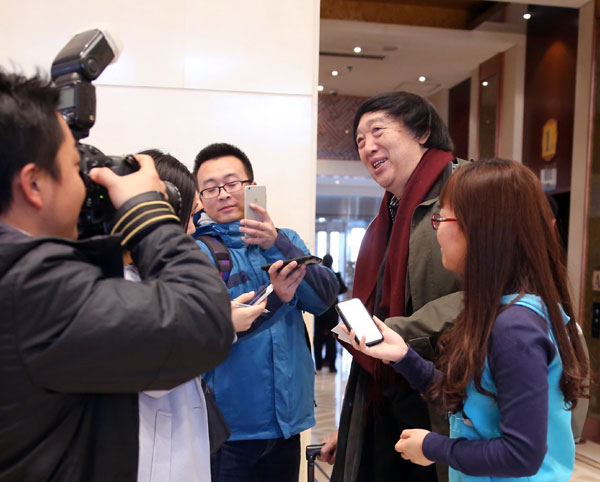 Feng Jicai, writer and CPPCC member, is surrounded by reporters as he registers for the annual session on Monday. Jiang Dong / China Daily
China is lagging behind other countries in the creation of contemporary works that represent the peak of the country's cultural achievements, according to a leading heritage campaigner.
"We have profound cultural traditions and splendid arts such as Peking Opera, but in terms of contemporary culture, we are known for nothing," said Feng Jicai.
"Culture is living and develops as the times and society change. We should safeguard our heritage while developing today's new classics."
Feng, a member of the National Committee of the Chinese People's Political Consultative Conference, was speaking at the annual session, which opened on Tuesday.
He referred to the death on Monday of Yuan Kuocheng, one of China's best storytellers. He said Yuan may be the last practitioner of the storytelling tradition, and his death could mean the end of the art form.
"Maestros such as Yuan become fewer and fewer," he said.
Feng, 73, has long been a focus of the annual session, not only because his 1.92 meter height means he rises above the crowd. His repeated calls for action to safeguard the cultural heritage have attracted attention for the past 10 years.
Tianjin-born Feng loved painting and literature from a young age. In the 1960s, he studied traditional Chinese painting at a local studio and developed a fascination for folk art.
However, the "cultural revolution" (1966-76) prevented him from pursuing this interest. He turned to literature in the early 1980s, and soon became one of the nation's best-known writers.
His commitment to safeguarding the country's cultural heritage began in 1991 when he visited Zhouzhuang, a village in Jiangsu province that has many waterways and is known as the "Venice of the East".
Feng was impressed by the architecture of the village's houses, gardens and bridges. He learned that a villager wanted to sell his house because he needed money and regarded the building as old and shabby.