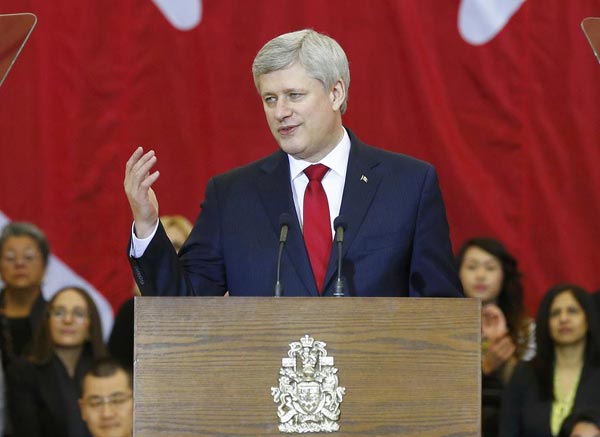 Canadian Prime Minister Stephen Harper speaks at a news conference in Richmond Hill, Ontario, January 30, 2015. [Photo/Agencies]
Canadian Prime Minister Stephen Harper joined some Chinese Canadians here on Wednesday night to celebrate the Chinese Lunar New Year, giving his best wishes to everyone on the spot.
The local newspaper The Province reported on Thursday that Harper visited Aberdeen Center in Richmond, an adjacent city of Vancouver with a large population of Chinese immigrants. He also made a speech at the center to the local audience.
He continued the celebration Thursday with some of his Conservative party colleagues and sent out an early morning tweet which reads: "Happy to celebrate Chinese New Year with my colleagues," the report said.
Prime Minister Harper is not the only politician to visit Aberdeen Center during the Chinese New Year. Last year's guest of honor at Aberdeen for Lunar New Year was federal Liberal leader Justin Trudeau. The year before, provincial Premier Christy Clark of British Columbia was in attendance to celebrate the Spring Festival.
Click here to share your Chinese New Year Stories to win a smartphone!