Medical university students have invented new condoms which are in the form of G-string, a senior university student has graduation photos with her 8-month-old girl, and five Chinese dama began square dancing when their bus stopped on an expressway due to traffic jam.
G-string condoms invented
Students of Southern Medical University have invented new condoms which are in the form of G-string. Kong Yanxiang, leader of the team, said the condoms they have designed blend traditional condoms and G-string to make the contraception more effective. The G-string condoms have already obtained investment of 2 million yuan from a Guangzhou company and will hit the market later in the year.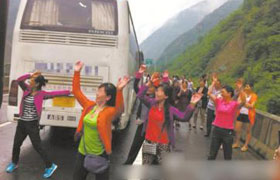 Square dance on the expressway
Five Chinese dama began square dancing when their bus stopped for a long time due to traffic jam on Duwen Expressway. Their dancing attracted many spectators.
One netizen posted the photos of the dance on Weibo, China's Twitter-like micro-blogging site, and the performance has generated lots of discussion online. While some people commented that dancing is a good exercise, others said that it is too dangerous to dance on an expressway.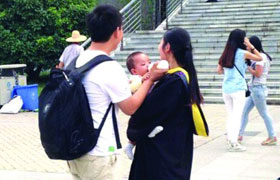 University graduation photos with baby
A senior university student surnamed Sun in Hefei has graduation photos that others probably don't, as she has taken the photos with her 8-month-old girl.
Sun, 25, gave birth to the baby in the first term of the senior year. They have got blessings from her teachers and classmates.
She said she has advantage over others when it comes to job-hunting as employers won't worry about her asking for maternity leave once she starts work.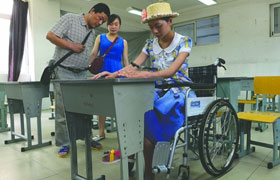 Girl injured in car accident takes gaokao on wheelchair
Wu Shuang, an 18-year-old Chengdu girl, severely injured in a car accident in April, will take the College Entrance Examination.
Unfortunately, Wu's mother died in the accident and Wu herself was in coma for five days. While everyone thought she will not be able to give the exam, she always insisted that she will appear for the exam.
"I have been preparing for 12 years. I do not want to give it up," she said.
The organizers have prepared a special examination room for her and local hospital has assigned doctors to take care of her during the test.

Anti-divorce contract ruled invalid by court
A Guangzhou court has rejected a woman's claim that her husband must pay her 2 million yuan ($322,000) if he divorces her, New Express reported. When Zhou Wei, 40, married Ah Ping, 41, three years ago, he voluntarily wrote a contract saying he would pay that sum if he divorced her. The court ruled against Zhou's lawsuit, saying the contract was illegal.

Family reunited 24 years after abduction
A couple in Pingwu county of Sichuan province were finally reunited with their son who was abducted by masked bandits 24 years ago, Chengdu Commercial Daily reported on Friday. The bandits were later caught and sentenced, but the 4-year-old boy was sold to Henan province and said to be dead. The couple believed their son was still alive and asked police to find him. On May 20, they at last found their son with the help of police in Sichuan and Henan provinces.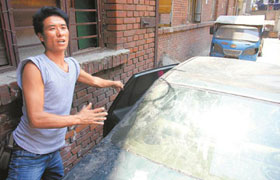 Young siblings die after getting trapped in car
A 5-year-old girl and her 3-year-old brother died after shutting themselves inside a deserted car in Panzhihua of Sichuan province, Southwest China Metropolis reported on Friday.
The two entered the car at around 3 pm on Wednesday, when interior temperatures in the car were believed to be over 60 C. When their parents found them three hours later, the children were dead.
Police have ruled out homicide, but efforts to discover the owner of the car, which has been abandoned for at least three years, continue.

Brother's devotion moves hospital to help
Ding Jianbo, a 14-year-old schoolboy in Juye of Shandong province, has helped care for his sick sister for seven years, carrying her to school on his back since he was 7. His actions have moved a local hospital to give the girl free treatment, Qilu Evening reported on Friday. The sister, Ding Jianhua, 16, was diagnosed with rheumatoid arthritis when she was 9 years old. Since then, the boy has carried her to school and massaged her legs each day.