Single women in Dongguan suffer from sex scandal backlash, factory owners in Wenzhou jump into the river to prove it's clean, and a young couple gets sick after eating fried chicken with cold beer, TV show-style.
Bad time to be single in Dongguan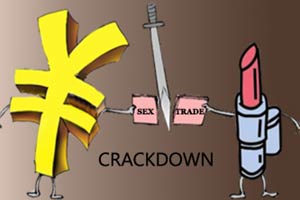 The recent reports about the sex trade in Dongguan have left many young unmarried women in in the city very worried. The singletons say rumors on the Internet give the impression that young women in Dongguan are likely to work as prostitutes. 
These women are calling for a stop to such rumors, saying, "We are still single. Such rumors may cause us big problems in dating."
Hu Xiaoli, a 22-year-old woman who works in a factory in Dongguan, said she became angry after many of her former classmates asked her, "What do you do in Dongguan?" in a strange tone. Another woman, surnamed Zhang, who also works in Dongguan, said that she was stood up by a man she was meeting for a blind date, after the sex trade exposure.
Related:
Aftermath of Dongguan crackdown on prostitution industry

Swim with a message
A total of 50 people, all owners of rubber shoe factories in Wenzhou, Zhejiang province, jumped into a river in the city and swam for a while, in order to show that the river is not polluted.
Lin Xiaodong, one of the shoe factory owners, said he hadn't gone swimming in a river for at least 20 years.
There are more than 2,000 shoe factories in the river's neighboring district, and they were previously believed to be the polluters of the river. Local government and factory owners spent 20 million yuan on pollution control, and the group swim was aimed at showing the positive results.
Related:
Nation to launch major anti-pollution plans

Doctor recovering after knife attack
Li Aixin, a surgeon in Yi county, Hebei province, had his throat cut with a knife by a patient in his office. The doctor is now out of danger.
The patient had received hernia surgery from Li at the hospital. He was unsatisfied with his post-surgery medical treatment, and held Li responsible. The patient has been arrested by the police.
Related:
Slaying of doctor 'stresses need for enhanced security'

Making way for flights
A spokesperson from the air force of the Ministry of National Defense published an article on Tuesday, saying that to support the development of civil aviation, 10 military airfields have been relocated and 457 training airspace closed. A total of 13 airfields were handed over to aviation.
Related:
China's aviation school banks on global ties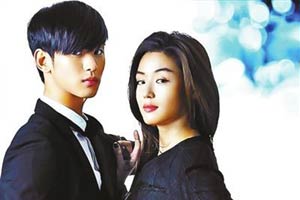 Bad advice from TV show
A young couple in Tieling, Liaoning province, reported symptoms of stomach pains and vomiting after having fried chicken and cold beer at a fast food restaurant. The woman wanted to have fried chicken and cold beer after watching a popular Korean TV show "You are from the stars," in which there is a famous line, "It's snowing outside. Shall we have fried chicken and beer?" The line became a huge hit on the Internet among fans. The couple in Tieling ended up at the hospital, diagnosed with pancreatitis.
Related:
Wife stabs husband during argument over TV show

Revenge rape
A 30-year-old man surnamed Li raped his girlfriend's mother in revenge, because he was angry that she was strongly against them being together.
Li had been with his girlfriend for about four years, and they have one daughter. Yet the woman's mother, Zhang, still opposes them being together, preventing the couple from getting married. In revenge, in April 2013, Li lured Zhang to an abandoned factory site and raped her. Li was soon arrested, and was recently sentenced to four year and one month in jail.
Related:
Revenge shooting leaves 6 dead, 3 families shattered
Boy's purchasing power
A 6-year-old boy went to an electric motorcycle store on Valentine's Day with tens of thousands in cash, saying he wanted to purchase "the best motorcycle for his girlfriend," referring to the little girl standing besides him, around the same age. The scene was captured by a netizen and posted on a micro blog.
Pan, the store owner, said the kids came to the store together and the boy had some gift money in red envelopes, claiming he had tens of thousands of yuan in cash with him. When Pan said his parents should come in if he wants to purchase a bike, the boy answered that his parents went out for Valentine's Day.
Related:
Kissing contest celebrates Valentine's Day in Beijing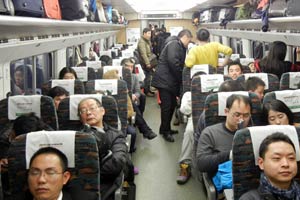 Free Wi-Fi to be launched on trains
Free Wi-Fi will shortly be available on all scheduled train services originating in Hunan province, a first for China, Southern Metropolis Daily reported. The Guangzhou Railway (Group) Corp and a technical company in Jiangsu province have developed a Wi-Fi system that has passed performance tests and can be accessed for free on trains via railwifi.cn, the report said.
Related:
Free WiFi now available on Hunan trains