Believing that his wife was having an affair with two men in the village, Shao Zongqi allegedly went on a shooting rampage of the two men and their wives in revenge, killing six and injuring three in Southwest China's Yunnan province.
"We are the victims as well. All three families are broken suddenly," Shao Zongqi's father said in despair. After the shooting, staffers from the village committee said that Shao Zongqi came to the committee several times and tried to divorce his wife, Liu Benhong.
"No one wants Shao Zongqi to get a divorce because they have been married for years and have a child," one staffer said.
"In fact, we planned to bring all parties together and have a chat on Feb 5. Unexpectedly, the shooting happened on Jan 30," the staffer added.
In the Chinese tradition, people want to persuade separated couples to get back together instead of breaking up. To seek a so-called happy ending, some even stay in broken relationships under pressure from other people.
The tragedy showed a sad part of China's rural life, with the husband usually working in a big city to make more money and the wife and children staying behind. The separation and the stress of living apart can challenge a couple's marital fidelity.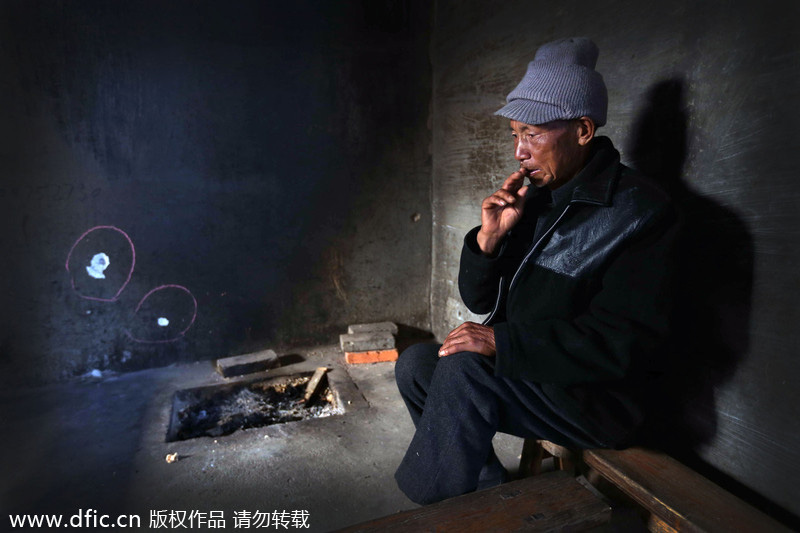 The father of one of the shooting victims, Shao Zongping, still cannot accept the cruel fact that his son has been killed. He sits alone on Feb 9 in Houqiao Township, Tengchong county, Southwest China's Yunnan province. Two bullet holes can still be seen clearly.[Photo/icpress.cn]