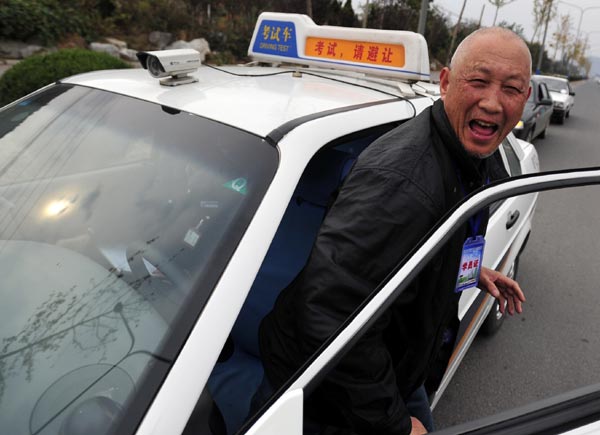 A 70-year-old Beijinger taking driving lessons is among the growing number of senior residents seeking a driver's license, a requirement to join the plate lottery. Provided to China Daily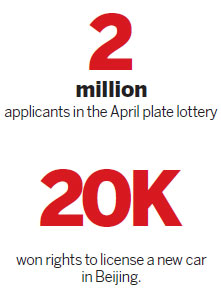 Friends, relatives team to get rights for new owners
A photographer in Beijing surnamed Wang recently bought a car and registered it under a friend's name.
The 30-year-old said he will be a father later this year and needs a car for family use. But he doesn't have a Beijing hukou - or permanent residency permit - so is not eligible for the city's license plate lottery.
His friend had won in the bimonthly plate lottery, yet was not in urgent need of a car.
Wang said the friend at first tried to lease the rights but was concerned about potential risks.
"To let me use the quota is safer as we are good friends.
"So we have agreed she can use the car whenever she needs, which is also very convenient for her," he said.
"We are kind of sharing the car," he said: "I paid the money for the car and she offered the license plate."
A consultant in the Internet business who only gave his surname Li had a similar experience.
He bought a small SUV last year using a license allotment won by a friend who couldn't yet afford his ideal vehicle. At the same time, Li's wife and father-in-law had tried their luck in the plate drawing for nearly two years with no results.
"It's not like selling or leasing a car plate," Li emphasized. "What we did is not business but helping each other.
"On one hand, I have the use of a car and on the other hand, my friend keeps his rights," he said.
According to current regulations, an allotment expires in six months if the winner does not purchase a car.
The city began the lottery system to limit car purchases and ease traffic congestion in 2011. With a continuously expanding applicant base, it is increasingly difficult to get a plate in the capital city, so some of those who want to buy cars are turning to friends or relatives for help.