PINEHURST, NC - The US Open trophy Martin Kaymer won Sunday was all he needed to prove he was anything but a one-hit wonder in the majors, and that the two years he spent trying to build a complete game were worth all the doubt that followed him.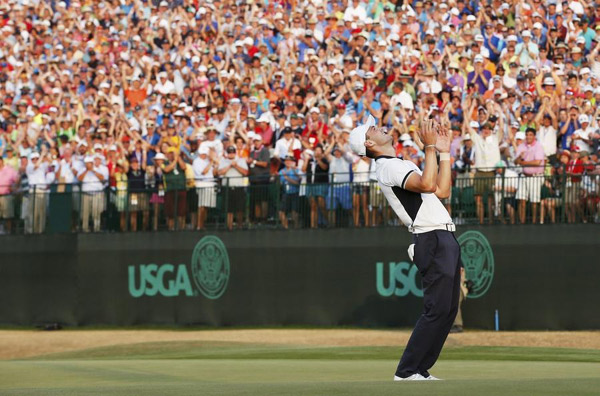 Martin Kaymer of Germany reacts after sinking his putt on the 18th green during the final round of the US Open Championship golf tournament in Pinehurst, North Carolina, June 15, 2014. [Photo/Agencies]
As he set it down on the table, Kaymer rubbed off a tiny smudge on the gleaming silver, which was only fitting.
Over four days at Pinehurst No 2, he dusted the field in a performance that ranks among the best.
Kaymer set the 36-hole scoring record by opening with a pair of 65s. He never let anyone closer than four shots over the final 48 holes. Equipped with a five-shot lead, he was the only player from the last eight groups to break par.
Welcome back, Martin.
"You want to win majors in your career, but if you can win one more, it means so much more," Kaymer said after closing with a 1-under 69 for an eight-shot victory over Rickie Fowler and two-time heart transplant recipient Erik Compton.
"Some people, especially when I went through that low, called me a one-hit wonder and those things. So it's quite nice proof, even though I don't feel like I need to prove a lot to people. But somehow, it's quite satisfying to have two under your belt."
The 29-year-old German is a forgotten star no more.
Kaymer returned to the elite in golf by turning the toughest test in golf into a runaway at Pinehurst No 2, becoming only the seventh player to go wire-to-wire in the 114 years of the US Open. Only three players finished the championship under par.
One guy appeared to be playing a different tournament.
"No one was catching Kaymer this week," Compton said. "I was playing for second. I think we all were playing for second."
Only a late bogey kept Kaymer from joining Tiger Woods and Rory McIlroy as the only players to finish a US Open in double digits under par. He let his putter fall to the ground when his 15-foot par putt on the 18th hole dropped into the center of the cup, like so many others had this week.
Kaymer finished at 9-under 271.
His last two wins are the US Open and The Players Championship, with the strongest and deepest field in golf. He never trailed after any round in both of them.
"Martin was playing his own tournament," Fowler said after recovering from a double bogey on the fourth hole to close with a 72.