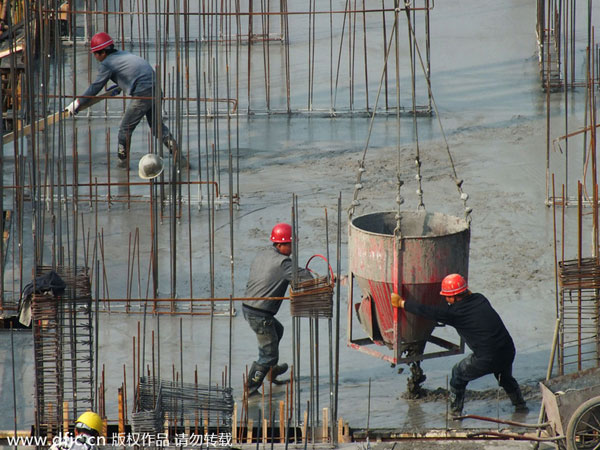 Photo taken on Dec 6, 2013 shows workers at a construction site in Yichang, Hubei province. [Photo/IC]
Asian economies are grappling with slowing growth but for most of them, from China to the Philippines and from India to Fiji, the challenge is exacerbated by the need to close growing income gaps.
And slowing growth may hamper those efforts by hitting government revenues used to fund education, healthcare, employment training, clean water and sanitation, and the myriad other programs.
Inclusive growth is key to not only eliminating abject poverty, but to making it possible for those in the worst of conditions to continue to climb the economic ladder, ideally with secure prospects for themselves and future generations.
But in Asia, efforts to fight poverty have languished. Billions of people who once lived in absolute poverty no longer do so, but they are still living in relative poverty. Their lifestyles are still a far cry from the conditions that the rapid economic growth in the region was expected to help achieve.
"The change in the last three decades has been dramatic, more dramatic than any other region," Stephen Groff, vice-president of operations at the Asian Development Bank, says. "Despite tremendous progress that has been made in poverty reduction in the region, it remains the home to most of the world's poor."
The ADB expects economic growth across the region to rise to 6.4 percent by 2015 from 6.1 percent last year. But it likely to be uneven: Absolute poverty is unarguably lower but income inequality is on the rise. People are getting richer but the rich-poor gap is getting bigger.