JERUSALEM - The suspected kidnapping of three Israeli teens in the West Bank on Thursday and the ensuing manhunt by Israeli security forces have escalated tensions between Israel and the newly-formed Palestinian unity government, but analysts say despite the flimsy allegations leveled against Hamas, it's too early to predict the implications of the incident.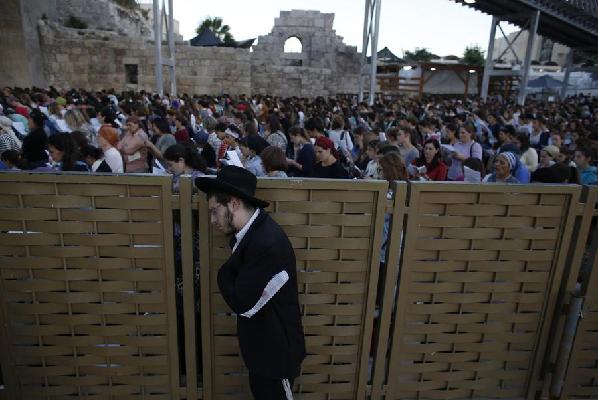 Israelis take part in a mass prayer at the Western Wall, Judaism's holiest prayer site, in Jerusalem's Old City, for the return of three teenagers who were abducted June 15, 2014. [Photo/Agencies]
FINGERS POINTED AT HAMAS
On Sunday, Israeli Prime Minister Benjamin Netanyahu accused the Islamist Hamas movement of abducting the teens who disappeared near the southern West Bank town of Hebron and condemned Palestinian President Mahmoud Abbas' reconciliation agreement with the Islamist militants, who rule the Gaza Strip.
"Those who perpetrated the abduction of our youths were members of Hamas. The same Hamas Abbas made a unity government with. This has severe repercussions," Netanyahu said Sunday, without detailing the evidence for his accusations.
Shaul Shay, a senior researcher specializing in Middle East terrorism and the Israeli-Palestinian conflict at the Interdisciplinary Center in Israel's Herzelia city, says if Netanyahu's allegations are correct, then the Palestinian national unity government could be in trouble.
"It appears to be a specific kidnapping incident, which we can' t say for sure who did it," Shay told Xinhua Sunday.
The researcher said if Hamas members are involved it could spell real trouble for the Palestinian unity government that has earned the support of many in the international community.
"If Hamas is involved in terrorism it's a violation of the Quartet's criteria, and it will make Abu Mazen (Abbas) face a very problematic situation with the international community," he added, referring to the mediating quartet composed of representatives from the United Nations, Russia, the European Union and the United States.
But other analysts are skeptical of the president's claims that there is a connection between the disappearance of the teens and the unity government.
"I don't see a connection between the establishment of the national unity government and this incident," said Yoram Meital, a professor for Middle East studies and diplomacy at Israel's Ben Gurion University, told Xinhua, adding any connection made by Netanyahu is "baseless."
"Netanyahu's claim comes from distress and is an attempt to reiterate the message to the international community, which he made before the incident took place, that the unity government is responsible for the collapse of the peace talks."
"Blaming the Palestinian Authority and Abbas is not only baseless but misleading, it does not describe the political reality between the two Palestinian movements -- Fatah and Hamas and their respective approaches to the question of the Palestinian prisoners," Meital added.