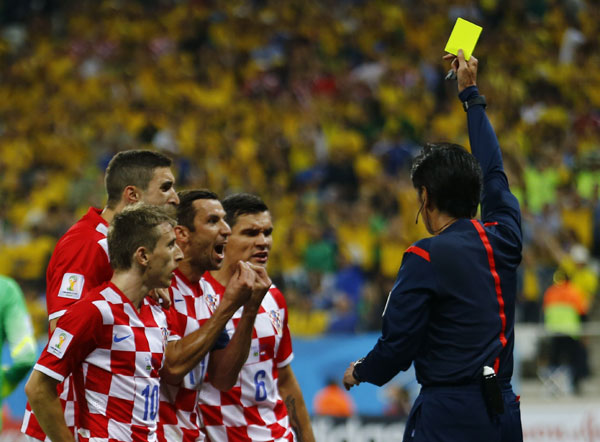 Referee Yuichi Nishimura (R) of Japan shows the yellow card to Croatia's Dejan Lovren (2nd R), for a foul on Brazil's Fred (unseen), during the 2014 World Cup opening match at the Corinthians arena in Sao Paulo June 12, 2014.  [Photo/Agencies]
SAO PAULO - Japanese referee Yuichi Nishimura was the toast of Brazil and the curse of Croatia on Thursday after his contentious penalty award proved decisive in helping the home side to a 3-1 opening day win in the World Cup.
Nishimura, who had had a solid game up until that 69th minute decision, pointed to the spot after Brazil's Fred went down under the slightest of challenges from Croat defender Dejan Lovren.
Television replays show the Fluminense centre forward threw himself to the ground after minimal contact.
Furious Croatian players surrounded the Japanese official, who responded by showing the stunned Lovren a yellow card.
"If that's how we start the World Cup, we'd better give it up now and go home," said angry Croatia manager Niko Kovac.
"We talk about respect, that wasn't respect, Croatia didn't get any. If that's a penalty, we don't need to play football anymore. Let's play basketball instead."
After the dust over the penalty decision had settled, Neymar, who had pulled Brazil level after Marcelo's 11th minute own goal, squeezed an unconvincing penalty past Stipe Pletikosa as the stadium erupted in celebration.
Oscar added a third goal in added time for the hosts to seal the win in their Group A opener.
Nishimura also ruled out a Croatian effort 12 minutes later when Ivica Olic was penalised after he rose for a cross with Brazil goalkeeper Julio Cesar. The keeper failed to catch the ball but Nishimura decided Olic had charged into him.
"This was ridiculous today and if we continue in this way we will have a circus," said Kovac. "The referee was completely out of his depth."
Croatian coach : If this was a penalty, it's better for us to go home!
Croatian coach Niko Kovac slamed Japanese referee Yuichi Nishimura after Brazil's 3-1 victory in the World Cup opener at Arena Corinthians on Thursday.
"I had a feeling that the referee had one set of rules for us and the other for Brazil. I don't want to talk about referees but everybody saw how he did his job. He didn't have respect for Croatia. He's not good enough to be a referee in such a important game," Kovac said to Croatian Television after the match.
During the match Kovac had a poker face. He held it until 70th minute when Nishimura pointed to penalty spot after Dejan Lovren challenged Fred in Croatia's penalty box.
"If that was a penalty than we don't have to play football anymore. This is not basketball. This was a robbery," the Croatian coach said.
Croatian players and other experts shared his opinion.
"We should be talking about great game, two great teams fighting and instead we have to talk about the referee. It's a shame that one person can destroy everything that we worked for. I think we deserved more," Croatian midfielder Ivan Rakitic said.
For all Croatians this was the greatest match in the young country's history. For Brazilians this was just the first of the seven steps on the way to the sixth World Cup trophy. In the 11th minute it was Croatians who were in seventh haven when Marcelo accidentally pushed the ball into his own goal after cross from Ivica Olic.
"In the first 20 minutes Croatia played like you should play against Brazil. They were focused, the midfield was covered and when they got the ball they were fast and dangerous. On one such occasion they got the goal," said Goran Vlaovic, former player from Croatia's Golden Generation.
But there was still 70 minutes to play and Brazilians were getting closer to Croatian penalty box by each minute. Croatian goalkeeper Stipe Pletikosa had some great saves but he couldn't stop Neymar from scoring in the 29th minute. Pletikosa was close to stop Barcelona's star penalty kick in the 71st minute but the ball went of his hands into the net. In the stoppage time Oscar confirmed Brazil's victory with clever shot when he was few meters outside the penalty box.
"It's not easy to play against the team that has so many great individuals. Just because of that they can be dangerous even without paying attention to tactics. Croatian players did a great job. There is not much more they could do. They even had a chance to make it 2-2 at the end of the match but that didn't happen," Robert Prosinecki said.
Vlaovic, Prosinecki's former teammate from the 1998 World Cup squad, was a bit more critical of Croatia's presentation in Sao Paulo.
"After great first 20 to 25 minutes Croatia didn't do enough. It seemed that they didn't have a will to attack Brazilians. They became slower and if you play slow against Brazil than you are in danger because they have fast players. Every time when Croatians lost the possession Brazilians were dangerous," Vlaovic said.
When he wasn't talking about the Japanese referee, Niko Kovac was full of praise for his team. "We were not just good. We were excellent in both halves. This is how you fight for your team and I am very proud of my players. They did everything that we've planned. It's a shame that we didn't have a lead after the first half. If we continue to play like this I am convinced that this team will advance to the knockout phase," Kovac said.
First step to that goal Croatia can make on 18 June, when Kovac's team will try to beat Cameroon in Manaus.