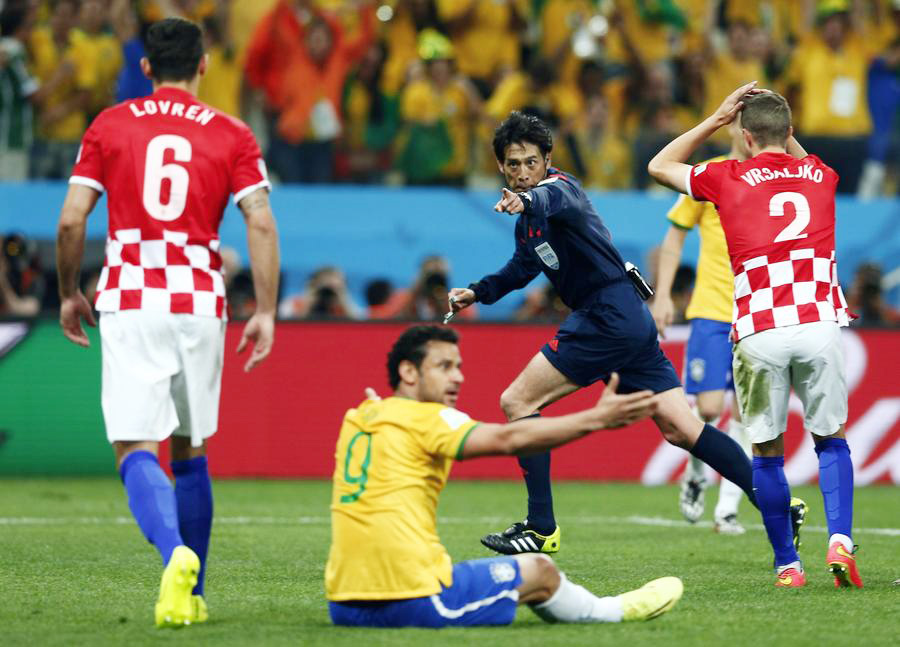 Referee Yuichi Nishimura (C) of Japan gestures for a penalty during the 2014 World Cup opening match between Brazil and Croatia at the Corinthians arena in Sao Paulo, June 12, 2014. [Photo/Agencies]
SAO PAULO - Among the many reasons Brazil is favored by many to win its sixth World Cup - such as unmatched offensive firepower - is the benefit of playing on home soil, where a crowd can lift emotions and referees tend to be influenced by the intense environment.
Thursday's World Cup opener offered examples of both, most notably in the 71st minute, when referee Yuichi Nishimura fell for a blatant, in-the-penalty-box dive by Brazilian forward Fred.
Rather than play on, Nishimura awarded Brazil a penalty kick that star forward Neymar delivered on moments later. It gave Brazil a 2-1 lead over the Croatians and changed the course of the game. Brazil added a third score late to take the 3-1 victory, leaving Croatia with little to do but vehemently complain about that call, among many.
"If that's a penalty, then we can just stop playing football right now," said Croatian coach Niko Kovac, suggesting biased officiating could be a tournament long problem. "…It's ridiculous. If we continue in this way, we will have a circus. …If that's how we start the World Cup, then we may as well give up and go home now."
The result satisfied the rowdy 68,000-plus fans, most clad in Brazilian yellow, who provided a charged atmosphere as the home team began a quest for a sixth World Cup while hosting the event for the first time since 1950. While street protests over government spending and FIFA demands raged in other parts of the city and fans inside Arena de Sao Paulo chanted vulgarities at Brazilian president Dilma Rousseff, this was mostly a night to celebrate the game that this country is so passionate about.
Neymar's penalty kick, which Croatian goalkeeper Stipe Pletikosa deflected but couldn't keep out of the net, set up Brazil for the come-from-behind victory.
"Put your hand up if you think it was a penalty," Kovac said during his postgame news conference. "Two billion people [watching on television] could see it was not a penalty."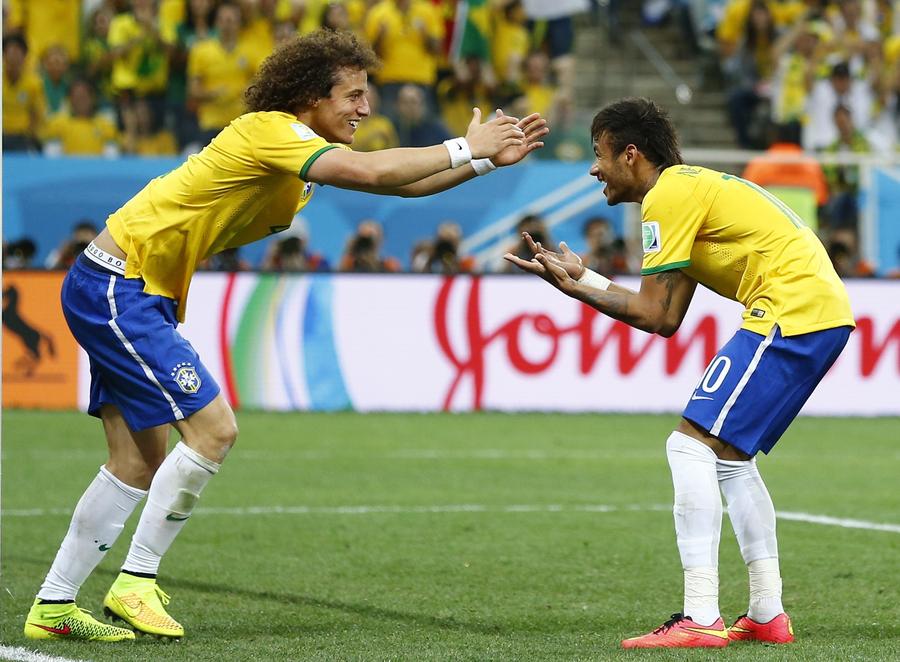 Brazil's David Luiz (L) and Brazil's Neymar celebrate during the 2014 World Cup opening match between Brazil and Croatia at the Corinthians arena in Sao Paulo, June 12, 2014. [Photo/Agencies]

Highlights of World Cup opener:

Neymar the MVP

Questionable penalty in hot debate

Neymar gave Brazil a winning start to its home World Cup, scoring twice to lead the host nation to a 3-1 come-from-behind victory over Croatia in the opening game on Thursday. [More]

Brazilian players who scored twice in a World Cup opener

| | |
| --- | --- |
| 1930 | Moderato (Forward) |
| 1938 | Peracio (Forward) |
| 1950 | Ademir (Forward) |
| 1954 | Jose Pinga (Forward) |
| 1958 | Amarildo (Forward) |
| 2014 | Neymar (Forward) |

Yuishi Nichimura ensured that refereeing standards at the World Cup will be a hotly debated topic from the opening match on Thursday.

The Japanese official awarded Brazil a questionable penalty that Neymar converted in the 71st minute, giving the host nation 2-1 up in what turned into a 3-1 victory over Croatia.

For some referees, Neymar might not have been on the field to take the spot-kick, nor even level the match in the 29th minute. [More]
| | | |
| --- | --- | --- |
| Related World Cup stories: |   |   |
| | | |
| | | |