Candidate for county governor gets caught lying on his resume, explosion in Kunming kills 2, and an old letter written by Lu Xun is auctioned for $1.1 million. It's all trending across China.
Not guilty plea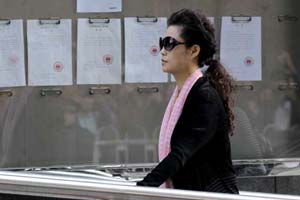 Li Tianyi, a military singer's son who was charged with gang rape, pleaded not guilty during his second trial on Tuesday. "Should I bear all responsibilities just because I was the son of Li Shuangjiang (the military singer)?" Li said in court, Southern Weekly reported.
Li, detained on Feb 21, is suspected of participating in a gang rape with four other men while intoxicated. The court did not issue a verdict yet at the second trial.
Related:
Tenor's son stands second trial
Bribery probe
The head of a government-run art troupe has been dismissed and placed under disciplinary investigation, China National Radio reported.
Zhang Chengxiang, head of the Coal Miners Art Troupe, affiliated with the State Administration of Work Safety, is being investigated on suspicion of taking more than 13 million yuan ($2.1 million) in bribes when he was director of the provincial coal mine safety authority in Heilongjiang, the administration said.
$1.1 million letter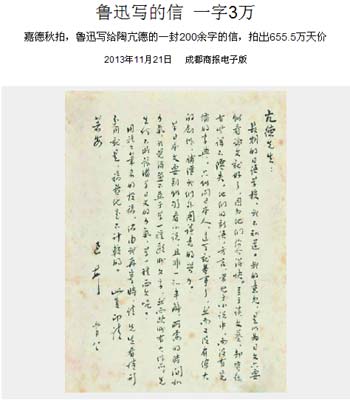 A screen grab from Chengdu Economic Daily shows Lu Xun's letter to Tao Kangde on June 8, 1934.
A letter written by renowned writer Lu Xun sold for nearly 6.6 million yuan ($1.1 million) in an auction, people.com.cn reported.
Lu wrote the letter using about 220 Chinese characters to publisher Tao Kangde on June 8, 1934, discussing how to study the Japanese language. Before the auction, the letter was estimated to be worth much less - between 1.8 million and 2.2 million yuan.
Related:
Bonus points
Excellent students can add an extra 60 points to their marks in the National College Entrance Exam when applying for Tsinghua University next year, according to a new plan.
The university announced that the plan was to encourage high school students to be more innovative and dedicated to their academics.
Related:
Final sprint to national college entrance exam
Explosion kills 2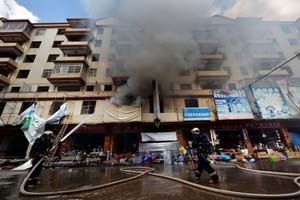 A building explosion in Kunming, the capital of Southwest China's Yunnan province, on Thursday morning left at least two people dead and two injured.
The local government said the explosion was caused by a gas leakage from a shop on the first floor. The 7-story building was to be demolished before the explosion occurred, People's Daily reported.
Related:


Blast in Kunming leaves 2 dead, 2 injured
Caught gambling
A policeman in South China's Hainan province was dismissed from his post after he was caught gambling with gun, the provincial disciplinary watchdog announced.
The policeman, surnamed Feng, from Hexi police station of Wanning city, was armed with a pistol while gambling on Sept 9. He was expelled from the Party organization and dismissed from his post, according to an announcement released by the Hainan provincial commission of discipline inspection on Wednesday.
Related:
County officials suspended after gambling bust
Health official fired after bribe-suspected gamble
Special:
Candidate disqualified
The government disqualified a county governor candidate after his resume was questioned by the public.
Wei Ruxiang, the candidate in Liaozhong county of Northeast China's Liaoning province, prompted public doubts since his resume showed that he started working at the age of 12. The county government announced on Thursday that his resume was not true, and he started work in the army at the age of 15, People's Daily reported.
Special:
Eating paper
Five students at a junior high school in Jishou, Hunan province, were forced by their teacher to eat paper as punishment, China News Service reported.
One of the five students said the class had left behind trash, including paper, on the floor after an exam on Oct 31. The teacher, Yang Xi, blamed the five students and forced them to eat the paper. On Nov 4, the students' parents filed a complaint and Yang apologized to the parents and students.
Related:
Guideline issued to strengthen teachers' ethics
Teacher sacked for telling students to slap each other
Intern teacher beat boy in kindergarten