2 kids OK
An online survey shows that about 25 percent of people would like to marry an only child after a new policy was released last week, Southern Metropolis Daily reported.
Couples will be allowed to have two children if one of the parents is an only child, according to a blueprint from the Third Plenary Session of the 18th Communist Party of China Central Committee.
About 75 percent of people want a second child, according to the survey.
Related:
Nation braces for more babies
China to ease family planning policy
Survey:If policy allows, would you like to have a second child?
Test explanation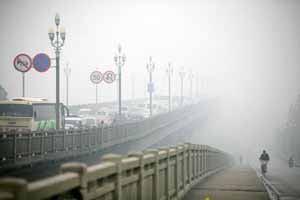 A professor denied a news report about his experiment showing that human lungs can turn black after six days of breathing fog and haze.
Song Weimin, a professor from the School of Public Health at Fudan University, said he did not expose the rats in his experiment to polluted air, but killed the rats and put the liquid with pollutants into their lungs.
The experiment does not prove that human lungs would turn black after six days of haze, Song told Beijing News.

Related:
Exposure to smog is severe hazard
Revenge shopping
A woman bought 100 pairs of shoes and taped them onto her car to protest her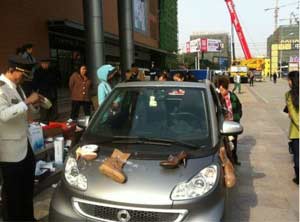 boyfriend, who banned her from buying anything during last week's online shopping spree.
The woman spent 20,000 yuan on shoes in Chengdu, Southwest China's Sichuan province, on Friday. She broke up with her boyfriend because he did not allow her to shop online during the online sales carnival on Nov 11, also known as Singles Day, West China Metropolis Daily reported.
Special:
Shopping meets dating on 11.11
Former guard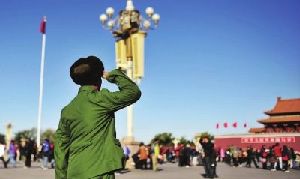 An 83-year-old man who used to be a guard for the late Chairman Mao Zedong could not help crying when he saw Mao's body at Chairman Mao Zedong Memorial Hall on Sunday.
Feng Xiaotong, from Xinhua county of Central China's Hunan province, worked as Mao's guard for five years in the 1950s, Sanxiang City News reported.
Related:
Retracing Mao Zedong's steps
Weibo rules
A district government in East China's Shandong province requires local primary and middle school headmasters to release information on Weibo every day.
According to the rules issued by Changqing district government in Jinan city, the headmaster will face punishment if they don't publicize information through Weibo. Most parents supported the regulation, China National Radio reported.
Boy expelled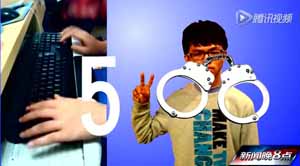 A boy who questioned police in his micro blog was forced to leave school on Monday, the Beijing News reported.
Yang Hui, 16, a junior high school student in Tianshui, posted a message on Nov 11 saying he was beaten by police on Sept 17 after he was detained for questioning police online concerning a murder case. The local education administration is investigating the case.
Silenced by tape
Police in Huizhou taped the mouths of suspects during questioning to avoid collusion because police could not understand the suspects' dialect, the Southern Metropolis News reported.
Officers detained 23 suspects in two mahjong parlors on Saturday, who are from Weng'an county. Zou Chaolu, a lawyer, said sealing their mouths is not prohibited explicitly, but there may be better ways to prevent collusion.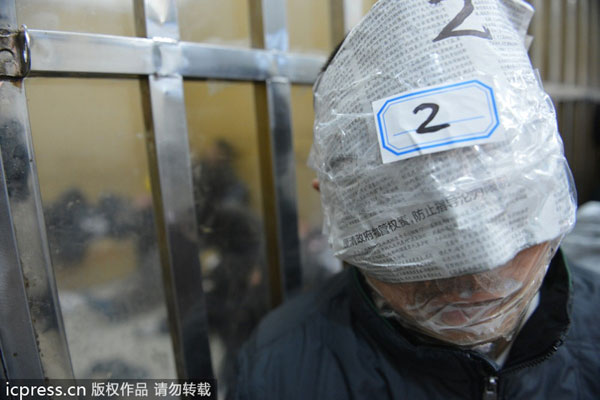 Police in Huizhou taped the mouths of a suspect during questioning. [Photo/icpress.cn
Cleaners show youth value of food
Cleaners working at Yantai University are eating the cafeteria leftovers to highlight the waste and show students the value of food, China Youth Daily reported on Monday.
The seven cleaners, four men and three women from rural areas who range in age from 53 to 66, felt the students did not appreciate the food on offer.
Related:
Frugality prevailing in former high-end sectors
Chinese officials told to set frugal example