The China University of Petroleum Karamay Campus was inaugurated on Dec 10, ts.cn reported.
Being the first university in Karamay, the Karamay campus is entitled to recruit students across the country.
The campus plans to start recruiting about 500 undergraduates and 100 graduate students to major in petroleum and petrochemical subjects in September 2016.
Apart from the traditional petroleum related majors, the Karamay campus will also expand to include disciplines that are needed for the "Belt and Road" Initiative and the economic development of Xinjiang.
The campus has targeted a student body of 8,000 full times students consisting of 6,000 undergraduates, 1,000 graduates and 1,000 overseas students. The number of instructors is expected to reach 900 within five to eight years.
Currently, the campus has over 100 instructors, full and part time. The campus will setup special policies to attract highly skilled teachers. It will also hire some part-time teaching staff from local companies or Chinese who are returning from abroad.
The campus occupies an area of 7,200 acres (72 square kilometers), with the buildings occupying 645,000 square meters. The total investment is 4.3 billion yuan ($66.7 million).
So far, teaching buildings, student dormitories, stadiums, and laboratories have been completed. A modern e-library and internet service system have also been established.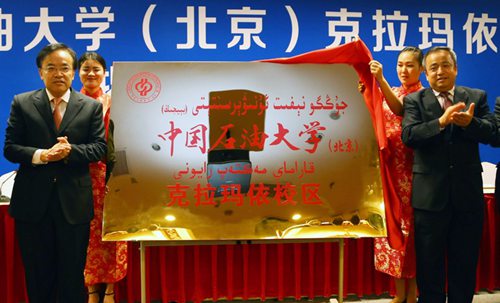 The China University of Petroleum Karamay Campus is inaugurated in Urumqi on Dec 10, marking the opening of the first university in Karamay. [Photo provided to chinadaily.com.cn]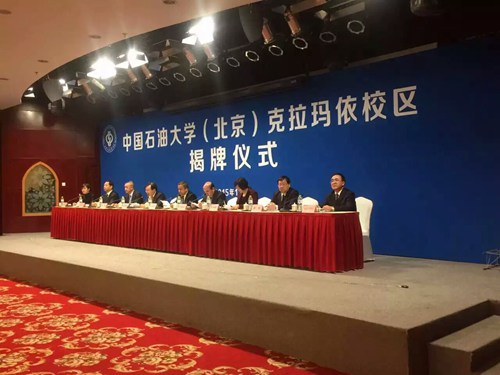 Karamay municipal government and China University of Petroleum representatives attend the inaugural ceremony of the university's Karamay campus. [Photo provided to chinadaily.com.cn]
Edited by Peter Nordlinger