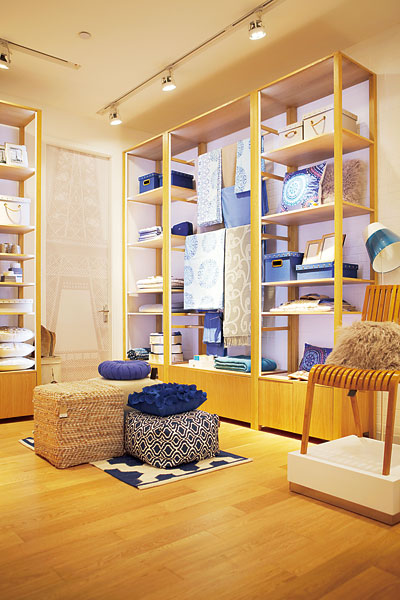 The funky interior of Homes-Up, which is part-showroom, part-workshop, part-communal flophouse. Photo provided to shanghai star
At least, these were some of the solutions that NACO (pronounced"nah-so") came up with in response to the client's brief (the parrot tattoos feel like a World Cup-inspired afterthought).
In April, Homes-Up, a brand created by France's Adeo Group in 2010 with the Chinese market specifically in mind, shuttered its temporary showroom on Huaihai Road, where customers could browse products but not buy them in the store. The first brick-and-mortar retail outlet then opened its doors on Taikang Road on June 6.
Now, the retail store ranks as the newest kid on one of the most bohemian, chic and coveted blocks in Shanghai.
Here, shops sell everything from Union Jack-decorated antique drawers to horsehair swivel chairs. The street abuts Tianzifang, a bohemian warren of handicraft shops and restaurants that is a huge tourist draw. The real estate prices would make your blood run cold.
The decision to create a physical retail space came two years after the brand's initial gamble of charming the Chinese with only a bilingual online presence failed to have the desired impact. It failed to establish a strong emotional connection with customers. There was also a question of credibility (is it really French?). That's when the company turned to NACO, a locally based design studio with a proven track record, for help.
"It is difficult to get high visibility online and prove that you are really a French brand with an authentic design process," Lhermitte says.
"We wanted to create a much stronger familiarity with the brand and a closer connection between online and offline."