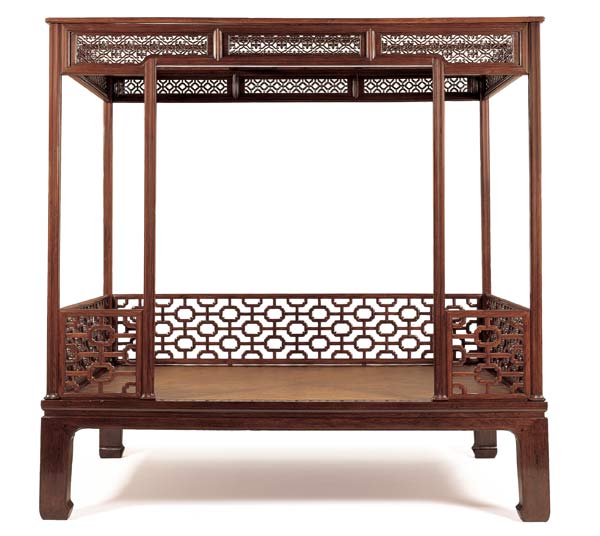 Perfection of Life displays some of the country's finest antique furniture, including a huanghuali canopy bed. Photos provided to China Daily
Simple elegance is the hallmark of Ming-style furniture, and a new exhibition in Beijing offers a rare chance to see this ancient craftsmanship, Lin Qi reports.
The late scholar Wang Shixiang (1914-2009) visited a Ming-style furniture exhibition in Hong Kong in 1994. He wrote a poem to express his impression:
"A choice collection, sublime and divine. But a momentary parting, what accomplishment before my eyes."
The exhibition was mounted by Wang's friend Grace Wu, a collector of Ming-style furniture, at the Grace Wu Bruce gallery that she opened in 1987. The space specializes in dealing Chinese furniture of the 16th and 17th centuries, and was given its Chinese name, "jia mu tang", literally meaning the hall of refined wood, by Wang, an acclaimed connoisseur of antique furniture.
To commemorate the centennial of Wang's birth, Wu has assembled 50 sets of Ming-style furniture for display at the Today Art Museum. She chose the first two verses of Wang's poem as the theme.
The display is part of an exhibition titled Perfection of Life held by China Guardian Auctions. It juxtaposes the centuries-old wooden furniture with 20 oil paintings by leading contemporary artists, such as Xu Lei, Ji Dachun and Jia Aili.