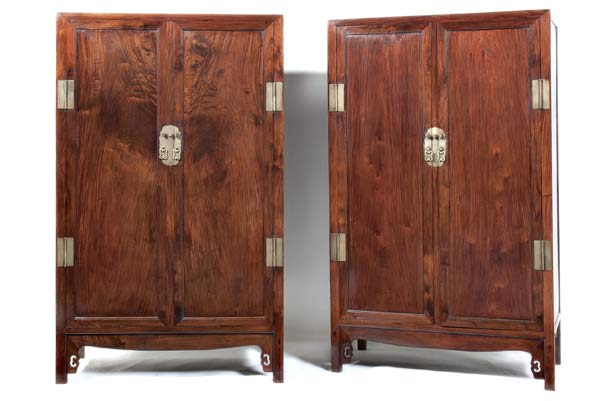 Corner cabinet
A pair of huanghuali high yoke-back armchairs are exuberant with the majesty and dignity of the Ming-style furniture. They are also called "guan mao (officials' hats)" chairs, as the headrests with their stretched-out ends look like a Ming Dynasty court official's hat.
The chairs' C-curve plain back splat exemplifies the extravagance of producing Ming-style furniture: A curving splat was carved from a whole piece of wood and it consumed only about 30 percent of the raw material.
"Western furniture has evolved from complexity to simplicity in design. Chinese furniture, however, developed in an opposite direction. It reached the pinnacle in the Ming Dynasty, marked by simple lines. But it went more and more sophisticated in the Qing Dynasty, influenced by the intricate Western design," Qiao says.
Wu had her first encounter with Ming-style furniture at the Victoria and Albert Museum when she studied in Britain some three decades ago.
"I was enthralled by the furniture's perfect appearance and had a strong desire to own them. At first, I bought them for home decoration. Then I came to realize they are so rare and valuable," she says.
Wu first met Wang in the early 1980s. Wang showed her the draft of Classic Chinese Furniture - Ming and Early Qing Dynasties, in which he used detailed illustrations to explain the furniture's mortise-and-tenon joints.
The book, well received as a masterpiece of Ming-style furniture appreciation, was published by the Hong Kong-based Joint Publishing in 1985 and then translated into other languages.