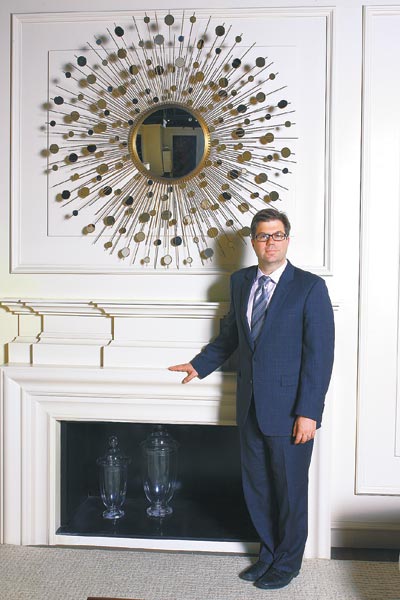 Austin Rothbard, president of US luxury furniture label Baker. Photo provided to China Daily
If there is only one item that Austin Rothbard, president of American luxury furniture label Baker, can recommend to Chinese consumers, he will pick the Athens Lounge Chair Tufted - which is limited to 10 pieces in the Chinese market.
This product, he says, is a reflection of Chinese people's growing taste for luxury furniture.
The creation from Washington D.C.-based furniture designer Thomas Pheasant is a clever interpretation of traditional style with the chair's legs and the back having a smooth and elegant curve. But it is contrasted with a light golden velvet cushion, made of leather, which looks exquisitely modern.
"We are finding that luxury furniture consumers are a lot similar around the world. But interestingly, what we have found is some of the affluent Chinese consumers tend to focus on a more formal traditional style," says Rothbard, who paid a visit to China to meet Baker's dealers and important consumers.
The company entered China, with an office in Shanghai, in 2009.
In recent years, it noticed a significant trend in luxury furniture in China.
"For us, we have seen affluent Chinese customers spending money on luxury handbags, jewelry and cars, but more recently, as more people choose to entertain at home, they have been spending a lot of money on luxury furniture," Rothbard says.
Baker was founded in the United States in 1890. Many pieces of the label's furniture are known for their handmade quality, gold finishes and alluring details.
With various products available in China, Rothbard says the beauty of the label is that the consumer can choose to mix and match from all Baker's items.
Besides the formal traditional style like Thomas Pheasant, it also offers formal contemporary and relaxed traditional styles. The company's collaboration with established furniture designers all over the world has ensured its unique tastes and luxury.
Related: