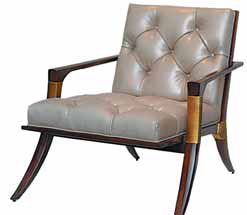 Baker's signature work, the Athens Lounge Chair Tufted, which is limited to 10 pieces in the Chinese market. Photos Provided to China Daily
China sells not only Pheasant's latest collection, but also the Normandie Desk, made from expensive African black wood; the Lyric Tufted King Bed, known for its design with curving lines; and the River House Coffee Table, with a typical Georgia-style decor.
All of them have a strong formal traditional touch: rich in details, warm colors and curved lines.
Rothbard says in the luxury home decor industry, individualized service is also very important.
For example, Baker offers a selection of 1,000 fabrics for finishing on furniture pieces, 40 percent of which are exclusive to the company. Visitors cannot find them in any other companies in the world.
Customers can also bring their own fabric to the company, which will be transformed into something new.
Baker's luxury home decors market is booming not only in first-tier cities like Beijing and Shanghai, but also in second-tier cities like Tianjin, Hangzhou in Zhejiang province and Dalian in Liaoning province. It now has eight showrooms on the Chinese mainland.
And the president reveals that China has recorded the fastest growth for its products, among all markets in the world.
Related: