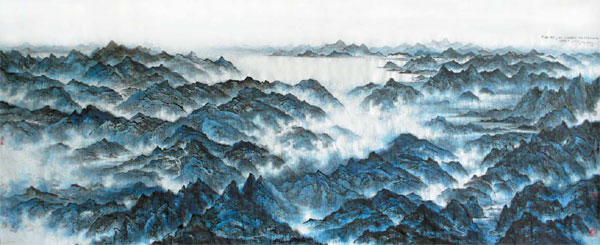 Magnificent Universe (123cm x 245cm).Photo provided to China Daily
"By what do you pursue the universe? Of course with your passion and determination."
And that's what underlies Yang's tireless visits to and portraits of mountains and peaks.
In addition to those famed in history, Yang trekked to other natural wonders like Mount Kailas near the border between China and Nepal.
"I went there twice," said Yang. "I failed to reach the peak during the first trip due to serious altitude illness. But I climbed it with the help of local troops when I tried the second time."
Since then he travels to more destinations with renowned mountains including Nepal, India, Jordan, Israel, Egypt, Turkey and Sierra Leon, where he met his African wife.
"You can never stop - faraway mountains are always in front. You examine, compare, paint them and finally melt them into your blood." 
In addition to mountains, Yang holds similar emotions for animals and plants.
"I marvel at how amazing life is when I see two insects play with each other. When I find some tender shoots in my flower pots, I transplant them into the ground so that they will grow better."
He even has a soft feeling towards stones that doctors took out from his body.
"They were really hardy things and I thought I would like do something to praise them. So I did a painting that portrays what they are like under the microscope.
"And it now hangs in my room."