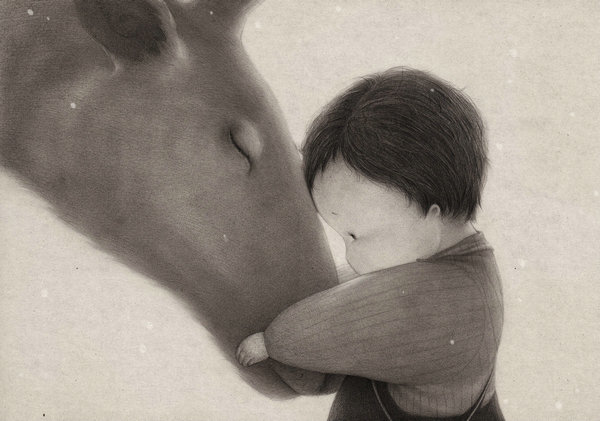 The Only Child. [Photo/amazon.cn]
Guo Jing, with her 2015 New York Times Best Illustrated Book, The Only Child, shined at the 23rd Beijing International Book Fair on Aug 27.
Born in Shanxi province in 1983, Guo, also the only child, often red books and played games alone in her childhood. And The Only Child was inspired by her haunting memories: six or seven year-old Guo once mistakenly got off a bus at a wrong stop and lost her way in woods.
The 100-page book of pencil illustrations, which was also named the Publishers Weekly Book of 2015, tells the story from the perspective of a six-year-old. There are no words, only pictures to present the story. "I am better at telling stories through illustrations," Guo said.
Guo wanted to share her own feelings and experiences as the only child of her family through pictures with her peers, most of who also belong to  "the only child" generation.
However, it was not only her peers who were moved by her book. Non-Chinese readers were also touched by her illustrations.
"As the grandmother of a four-year-old only child who reads to herself at bedtime, I thought a 'pictures-only' book would be ideal for her. It (The Only Child ) turned out to be more than I even hoped for! The storyline is easy to follow, for the grandchild as well as this adult, with absolutely gorgeous illustrations that evoke the loneliness - and resilience - of being an only child," a female called M. E. Altman said on Amazon.
The book took Guo one and a half year after she quit her job and began working on the illustration at home.
She thinks if children know they have a stronger mind and inner self then they will not be lonely.
The Chinese edition was recently published by the CITIC Press in August.