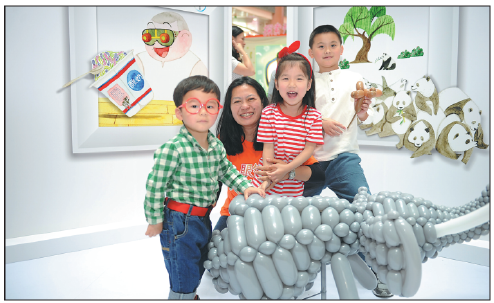 Celina Chew, president of Bayer Group Greater China, shares a moment with children at the launch ceremony. [Photo provided to China Daily]
A children's book called The Mystery of Groovy Goggles was launched by Bayer on May 14 to help popularize science education among young audiences.
The picture book, developed by the company, is the follow-up to What's Up With the Earth? launched in 2010.
The book, with its storytelling, adorable characters and vivid illustrations, brings science to life in an exciting and fun way.
It aims to inspire younger generations to explore and embrace the sciences and encourage them to pursue healthier and more sustainable living, according to the company.
"Science and innovation are two leading drivers of development in our society. As an innovative life science company, Bayer contributes cutting-edge life science solutions for human beings, animals and plants in order for us to have a better life," said Celina Chew, president of Bayer Group Greater China at the launch event in Shanghai.
"In addition, we are strongly committed to promoting science education and inspiring boys and girls to be future scientists. We believe this is very important as it brings better ideas and better solutions to the world," she said.
The second book introduces a new life science theme and continues the exciting adventures of the same characters from the last book. Poppy, Big Bao and Little Bean are a little older as they go on a magical adventure after accidentally discovering a pair of goggles in their garden.
The goggles help them recognize the wonders of science in their daily lives, leading the children down a path of discovery that answers a number of questions, such as the difference between bacteria and viruses, how to find allergens, determining how human immune systems function, the reason for eating healthy food and better methods of caring for pets and animals.