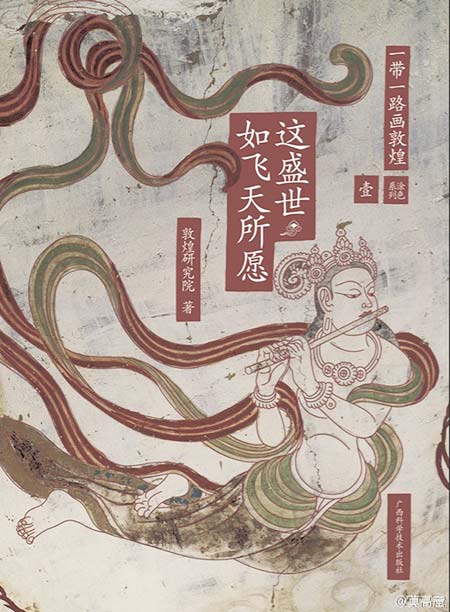 The cover of the coloring book An Age of Prosperity, as Flying Apsaras Wish. [Photo/Weibo account of Mogao Grottoes]
A coloring book featuring elements of Dunhuang art was published recently by the Dunhuang Academy China, allowing art lovers to color the Dunhuang caves as they wish.
The coloring book's first volume, An Age of Prosperity, as Flying Apsaras Wish, features pictures of Apsaras, which are female spirits of the clouds and water in Buddhist and Hindu mythology. The figures are based on those at the Dunhuang Mogao Grottoes, a world heritage site. The coloring book has six pieces of translucent parchment paper and high-definition images of typical murals from the caves, which readers can then rub off.
The book has 25 sets of mural images for coloring. Each left page shows a picture of the original mural image created thousands of years ago while the right page holds a line drawing draft of that image made from the original mural by using computer technology.
"The left page is history, the right page is today; the left hand is culture and the right hand is inheritance", the Dunhuang Academy China says. 
The book also has calligraphy pages from a
Diamond Sutra
remnant paper, a sacred Mahayana Buddhist text that dates to the year 868, and readers can color the characters.
As soon as the official Weibo account of Mogao Grottoes posted the news of the coloring book's publication, many netizens showed their support and praise for the move, and expressed their desire to buy one.