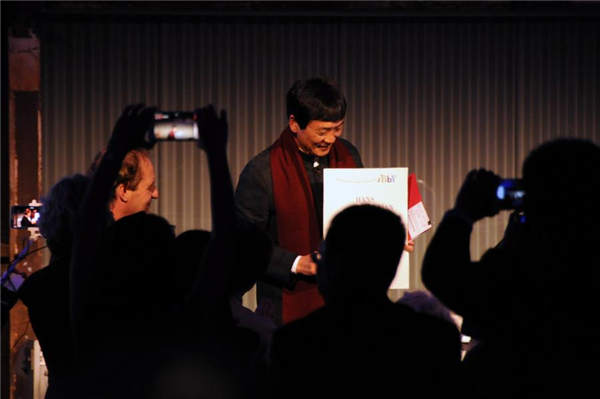 Cao Wenxuan (C) attends the awarding ceremony of the Hans Christian Andersen Award in Auckland, New Zealand, Aug 20, 2016. [Photo/Xinhua]
Cao Wenxuan, one of China's most popular authors of children's fictions, received the Hans Christian Andersen Award here on Saturday, becoming the first Chinese writer for the most distinguished international honor for children's literature.
Cao shared the prize, handed out every other year, with German illustrator Rotraut Susanne Berner who was absent from the grand prize-giving ceremony was attended by some 300 readers, publishers and members of the International Board on Books for Young People (IBBY).
"Cao Wenxuan's books don't lie about the human condition," Patricia Aldana, president of the Hans Christian Andersen Award jury told the audience, "They acknowledge that life can often be tragic and that children can suffer."
Except for Cao, other shortlisted competing writers are from Denmark, Germany, the Netherlands and the United States. He has won all the hearts of 10 jurors and was voted unanimously the winner of this year's prize.
"Cao writes beautifully about the complex life of children facing challenges. He's a deeply committed writer whose own child life has been deeply influential on his writing," she said.