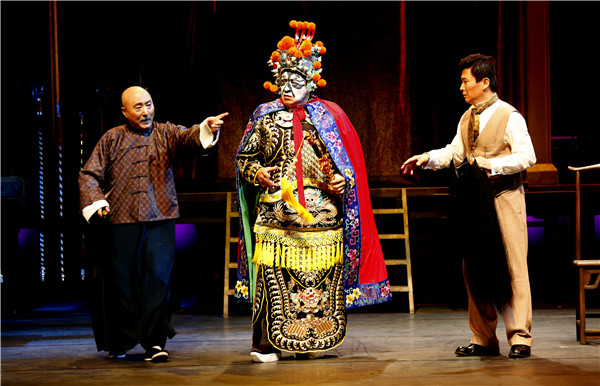 The Stage, directed by and starring Chen Peisi (left), is the first production by the Beijing Comedy Theater.[Photo provided to China Daily]
In the past year, some visitors to the National Center for the Performing Arts have been puzzled over program schedules that list five venues, because they could only find four of them inside the giant egg-shaped structure in Beijing.
The fifth, it turns out, is a few miles to the east on the Second Ring Road. More unique than its location is its exclusive devotion to the art of comedy.
The Beijing Comedy Theater opened on July 16, 2015, with a bang.
Its first offering, The Stage, directed by and starring Chen Peisi, won such an overwhelming wave of accolades that critics called it "an instant classic".
Although the story is set in the warlords-dominated days of the early Republic of China era, it has a poignancy that reminds one of Chen's own tug of war with the establishment.
Chen, who is artistic director of the Beijing Comedy Theater, is nationally known for his TV sketch comedy.
But after a famous fallout with the all-powerful CCTV, he turned to theater and has risen to a stature that veteran stage director Chen Xinyi calls "the greatest master in the art of comedy".
To ensure that the 1,186-seat house had a good start, he even turned down an offer to appear in a reality show about comedy that is highly lucrative and high-profile.
Jiang Kun, who has been Chen Peisi's close friend since their standup years, praised him for the "calmness to be well grounded in such a hurly-burly environment".
And Chen Peisi has results to show for it-on top is the "thinning physique" as he pointed out.
During the first year of operation, Beijing Comedy Theater presented 35 productions with a total of 212 performances. That included eight foreign productions.
Audience attendance reached 176,000, which translated to an average of 70 percent of capacity, a very decent showing by Chinese standards.
And box-office receipts totaled 29.6 million yuan ($4.48 million), which averaged 201 yuan per ticket, affordable to most Beijing residents and visitors.
"We are lucky that we started at the tipping point," says Chen Peisi. "To keep it going, I believe we have to rely on quality works rather than marquee names."
He is aware that his heavy involvement in programming could be a double-edged sword, propelling the venture forward with his reputation yet constraining its growth because it could be equated with his personal style of comedy.
Even though the first year is bracketed with two of his plays, including the currently running House, a comedic whodunit written and directed by Chen Peisi but not starring him, the theater has invited acclaimed works of diverse styles that have been established in other places.
They include an offering from the widely popular slapstick Mahua FunAge series and dark, thought-provoking satires like President's Invitation and The Donkey.
These shows have been sold out elsewhere, but their inclusion in this new institution could well be a hint that Lyu Xiaoping, the mastermind behind President's Invitation, which was originally a student production of a play, is "responsible for the art of comedy rather than for any government agency that oversees the house", he says.
At a forum commemorating the first anniversary of the theater, Peng Li, a poet, said that China actually does not have a comedy tradition. "We love to cry, even at the slightest prod. That's why we are flooded with cheap melodrama on television."
He and several other panelists said that the theater could position itself as a flag-bearer of Chinese comedy.
Beijing Comedy Theater is a joint operation with three partners-the NCPA; DaDao Culture, Chen's production company; and the venue itself, which used to be called Dongfang Theater until last June. It is entering its second year with a richer mix of programs, including classics such as Taming of the Shrew, As You Like It and The Tempest.