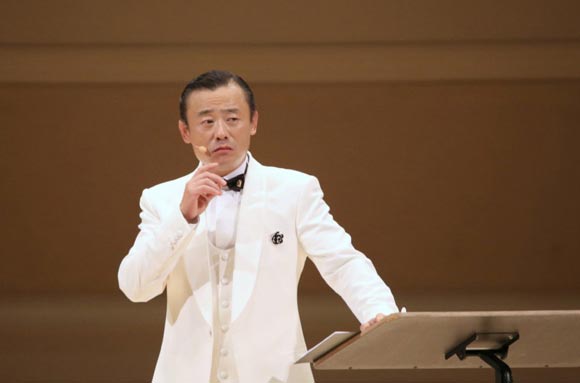 Zhou Libo. [Photo/Weibo]
Zhou Libo, a Chinese stand-up comedian who is famous for his iconic "Shanghai Style Small Talk," made his debut on July 8 at Carnegie Hall in New York City.
The show, "Sing our generation's songs, tell my own jokes," was the first time a Chinese stand-up comedian took the stage at one of the world's most renowned venues, which was built in 1890.
"I have been to New York many times, but it is my first time to perform in this city," Zhou said before kicking off his one-man show.
A constant ripple of laughter and applause from a packed audience punctuated the two-hour performance, which featured various popular Chinese songs from different periods in the country.
Zhou, in a white suit, inspired patriotism in the audience of some 2,800, who joined him in singing "I love you, China" and the Chinese national anthem before the show came to its end.
"I had a very wonderful time tonight. Zhou is very humorous and his performance is very impressive," said an American who studied Chinese in Nanjing in east China's Jiangsu province about 10 years ago.
Zhou first gained popularity in 2006 with a unique comedic style delivered in a linguistic mixture of Mandarin Chinese, Shanghainese and some English words and phrases.
His "Shanghai Style Small Talk" piece has attracted a considerable fan base among Chinese.
Zhou also created "Mr. Zhou Live Show," which is considered by some as the first television comedic talk show in China.
Related:
UK show 'Stomp' set for Beijing show