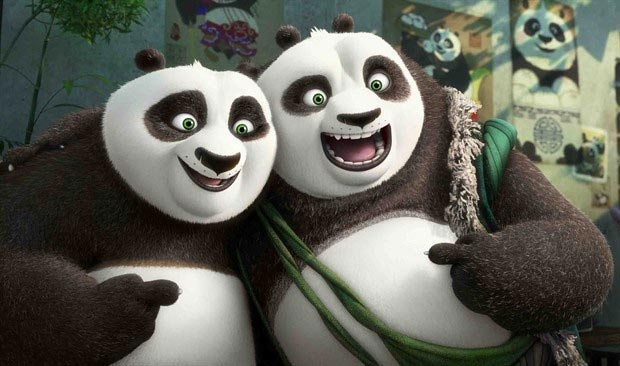 A scene from Kung Fu Panda 3. [Photo provided to China Daily]
Resolving differences between US and China teams
To Teng, Kung Fu Panda 3 is a Sino-US co-production in which the Chinese team was extremely involved. "More than 3,000 people worked on this film. They (the US team) didn't want the Chinese audiences to think it was something made by foreigners."
And this involved resolving disputes and differences, amid making compromises, on a regular basis.
"There was a festival at the panda village (in the film). They did their research, we did ours, and we let ideas collide. For instance, they weren't aware of what shuttlecocks were, so we looked for clips on the Internet and showed them. We designed a ribbon dance for Meimei (a female panda character in the film), but our US partners thought this wasn't Chinese and belonged to the genre of gymnastics."
One of the biggest selling points for Kung Fu Panda 3 in the Chinese mainland is the existence of a truly Chinese version of the film. On top of modifying mouth movements of characters, the Chinese script is not just a word-for-word translation of the English one. Instead, many puns were tailored specifically for Chinese audiences.
"When Po asks Tigress what kind of noodles she wanted, in the Chinese version, Tigress says 'Biantai La (abnormally hot, referring to the top degree of spiciness offered at Chinese noodle restaurants)', whereas in the original, it is 'noodle with sauce on the side'," said Teng.
Both parties made an effort to make the film more authentically Chinese.
"We were trying to come up with fun things the characters do - what they eat, how they play. As Western story artists, one of the things we put in was cookies. And the Chinese story artists basically said, 'Ummmm. You can't put in cookies, you have to put in traditional food,'" said Nelson. This eventually led to a change in script.