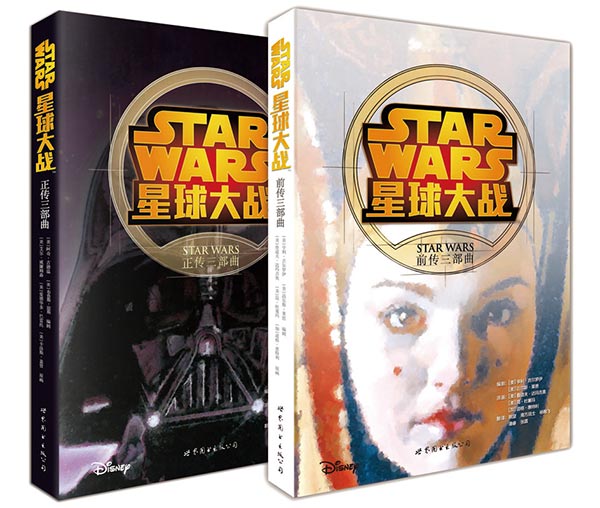 Picture books of Star Wars triology. [Photo provided to China Daily]
As
Star Wars: The Force Awakens
hit the Chinese screen on Jan 9, publishers are also trying to draw more attention to their books based on film franchise.
On Jan 7, Children's Fun Publishing released 18 Star Wars-themed books including four picture books of Star Wars trilogy — A New Hope, The Empire Strikes Back and The Return of the Jedi and the latest one The Force Awakens, five volumes of novels about young Jedi knight Obi-Wan Kenobi for teenagers and creative drawing books.
Meanwhile, World Publishing Corporation recently launched four cartoon book titles — Star Wars Trilogy, Star Wars Prequel Trilogy and two volumes of Star Wars Legends.
Wu Yan, a professor at Beijing Normal University who teaches science fiction, said at the launch ceremony by Children's Fun Publishing that although Liu Cixin had won the Hugo Award for his Three-Body trilogy, the sales of his books have not improved much.
"Since 2008 when the first book of the trilogy came out, only about 2 million books of the trilogy have been sold, which is not much compared with other Chinese novels like the Tomb Robbers Journal," he said.
"The reason for this is that young Chinese do not read sci-fi anymore, so that they do not know what sci-fi is and are not interested in it," Wu said.
"I'm very happy that these Star Wars books, especially those for children and teenagers, have been introduced to China, so our children will know about this fantastic genre of literature, about imagination and about human aspirations," he said.
Related:
'Force Awakens' grosses $53 million in China, now third biggest movie ever