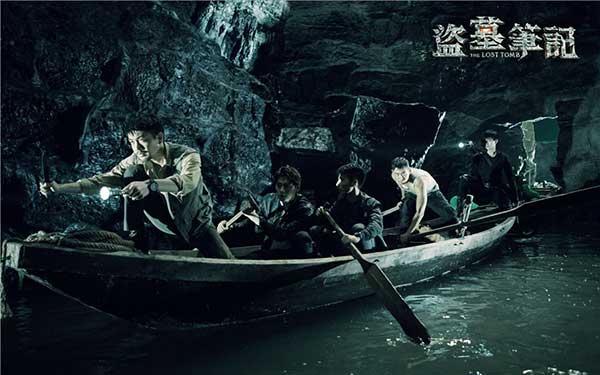 IQiyi has grown into one of the country's biggest video websites. Popular TV series like The Journey of Flower (top) and The Lost Tomb (above) broadcast on the website have drawn huge audiences.[Photo provided to China Daily]
In China's entertainment industry, intellectual property largely refers to popular online products such as a novel, game or even a song that can be developed into a potentially successful feature-length film or TV series.
"People born in the 1980s are no longer a major pillar in our user base, but those born in '90s or even after 2000 keep joining the group," says Wang Xiangjun, the chief marketing officer for iQiyi.
"That demands a young production team which shares a language with the viewers."
In 2015, The Journey of Flower, a 58-episode fantasy romance series, adapted from an online novel, was broadcast on iQiyi some 7 billion times.
And, season one of The Lost Tomb, which was coproduced by and premiered via iQiyi in June, attracted 3 billion "clicks" from users, although the series wasn't aired by any of the TV channels.
Wang considers the success of this 12-episode production, which was adapted from a best-seller first published in 2007, to have more significance because users have to pay to watch the entire season.
"In China, people earlier used for free online resources and pirate websites were rampant," she says.
"But now we offer more quality content, so we are asking viewers to pay."
A popular novella collection Lao Jiu Men (Nine Old Gates), which is a loosely connected prequel to The Lost Tomb, will also be adapted, according to Zhang Yuxin, general manager of the intellectual property management center at iQiyi.