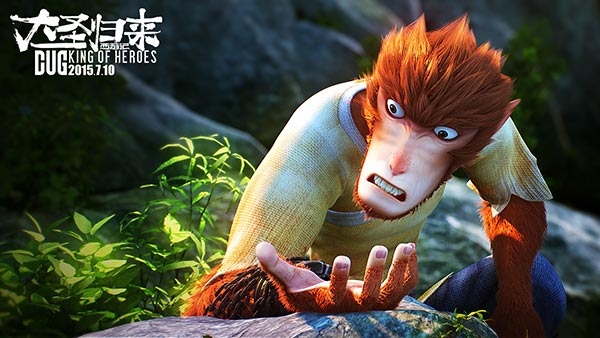 A screen capture from film "Monkey King: Hero is Back". [Photo provided to chinadaily.com.cn]
Domestic animated features are also strong at the box office.
"Monkey King: The Hero is Back" had raked in 620 million yuan ($99.8 million) as of 4 pm on July 25, snatching the throne of the highest grossing animated film in Chinese cinemas formerly held by "Kung Fu Panda 2."
"Monkey King," a 3D animated adaption of the classical epic "A Journey to the West," opened in the Chinese mainland on July 10. Its latest box office figure was announced on Saturday by Liu Zhijiang, general manager of HG Entertainment, the film's production company.
Previously, "Kung Fu Panda 2" had maintained the box office record for animated features for four years with 617 million yuan earned in Chinese cinemas.
China is the world's second-largest film market. The box office totaled 20.4 billion yuan in the first half of 2015, according to SARFT. Domestic films raked in a very respectable 9.5 billion yuan, compared to foreign movies which grossed a total of 10.8 billion yuan.