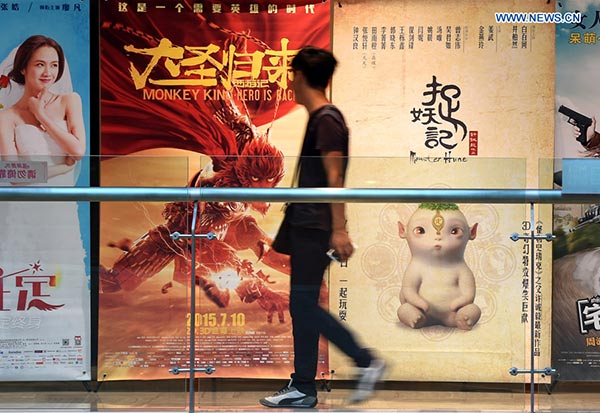 A man walks past a poster of the "Monster Hunt" (right) at a cinema in Shenyang, capital of northeast China's Liaoning province, July 26, 2015. [Photo/Xinhua]
Directed by Raman Hui, the Hong Kong animator known as the father of Hollywood blockbuster series "Shrek", "Monster Hunt" tells a story of a young man who creates a monster by accident. Its star-studded cast includes Jing Boran, Bai Baihe, Yao Chen, Tang Wei, Eric Tsang and Sandra Ng.
Initial prospects for the movie did not look good after its original lead, Taiwanese actor Kai Ko, was involved in a drug scandal. Kai Ko was arrested along with Jackie Chan's son Jaycee Chan for taking narcotics in August 2014, and the movie was re-shot with a new leading actor.
But box office figures beat expectations by surprise.
The movie took in 171 million yuan on the first day of screening, 300 million by day two, and 500 million by day three, setting the opening-day and single-day records of a local film.
Analysts expect box office figures to continue to grow in the coming weeks.