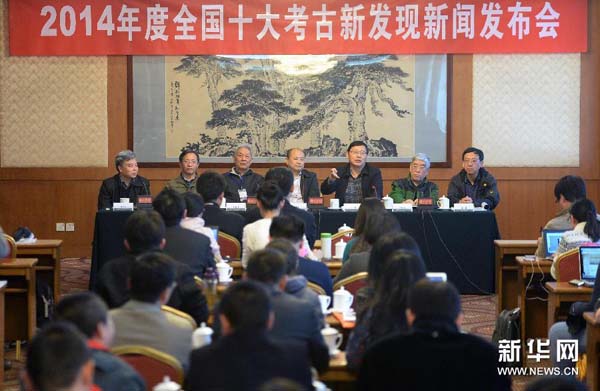 Experts attend a press conference in Beijing on April 9, 2015. [Photo/Xinhua]
The top 10 archaeological finds in 2014 were revealed in Beijing after two day's fierce appraisal and selection by judges from Chinese archaeological authorities and museums.
Some 25 archeological projects were narrowed down from 688 excavations to become finalists.
The finds provided new sources to study the development of Chinese civilization with the earliest dating back more than 600,000 years.
The judges were from the State Administration of Cultural Heritage, Institute of Archaeology under the Chinese Academy of Social Sciences, Peking University, the Palace Museum and other archaeological institutions.
The final top 10 are:
1. Modaoshan Mountain historic site and Nanjiang Paleolithic site in South China's Guangdong province. The discovery fills a gap in relics of prehistoric human activity in the area of Lingnan, Guangdong province, dating back more than 600,000 years.
2. Dongzhao town in Zhengzhou, Central China's Henan province. Relics of a town site prior to the Xia Dynasty (c.21st century-16th century BC) were discovered for the first time north of Songshan Mountain, Henan province.
3. Guojiamiao cemetery of the Warring States Period (about 475-221 BC) in Zaoyang, Central China's Hubei province.
4. Dabona tombs from the Warring States Period to Western Han Dynasty (206 BC-AD 24), found in Xiangyun county, Southwest China's Yunnan province.
5. Yue kiln site, from Eastern Han Dynasty (AD 25-220) to Wei Dynasty (AD 220-265), unearthed at Jinshan Mountain in Shangyu, East China's Zhejiang province. The find aids research into the origin of celadon porcelain production in ancient China.
6. Zhang Zhung Kingdom tomb in Tibet's Ngari region, dating to more than 2,000 years ago.
7. Ancient tombs found on Hulun Buir grassland in the Inner Mongolia Autonomous Region, dating to the Wei Dynasty.
8. Liyang and Huiluo granary sites of the Sui Dynasty (AD 581-618) in Central China's Henan province.
9. Mining and metallurgy historic sites of Liao Dynasty (916-1125) in Dazhuangke township, Yanqing district of Beijing.
10. Chieftain Yang's family cemetery in Zunyi, Southwest China's Guizhou province.