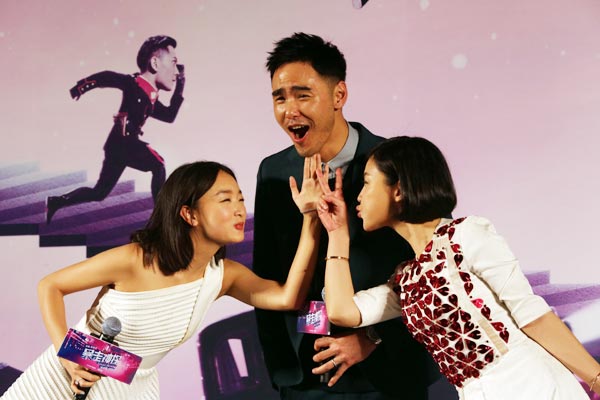 Taiwan actor Ethan Juan (center), Zhou Dongyu (left) and Yang Zishan appear at a press conference in Beijing for a new movie The Unbearable Lightness of Inspector Fan. Jiang Dong / China Daily
Taiwan actor Ethan Juan discussed his new movie, The Unbearable Lightness of Inspector Fan, at a news conference in Beijing on Thursday, revealing some of the thrilling behind-the-scenes action.
The movie, featuring the 32-year-old Taiwan Golden Horse best actor winner, will be released on Jan 16. Hong Kong director Clara Law's latest production is set in the old Shanghai during the Republic of China era. Juan plays a smart and cunning inspector Fan Ruyi, who finds himself in deep trouble after receiving a secret order.
To escape from his pursuers and prove his innocence, Fan starts a dangerous journey, during which he meets with a blind performer Huilan (Zhou Dongyu) and a powerful warlord's daughter Song Ziqiao (Yang Zishan) — two charming women representing the clash of tradition and modernity.
The two leading actresses — Zhou and Yang — play roles that required them to change their personality.
In real life, Zhou is naughty and vivacious, but in the movie her character is quiet and still, says Law.
Yang, on the other hand, is mild in person but aggressive on screen, says Juan.
The movie combines romance, suspense, action as well as detective story elements, portrayed as a "mixture comedy".
Law has a rich background in literary films, and was nominated for Best Director for Golden Horse Award in 1996 and Hong Kong Film Awards in 2009. Her debut film, They Say the Moon Is Fuller Here, won her the Silver Plaque Award during the Chicago Film Festival in 1985.
Related:
2014 TV Drama Awards held in Beijing