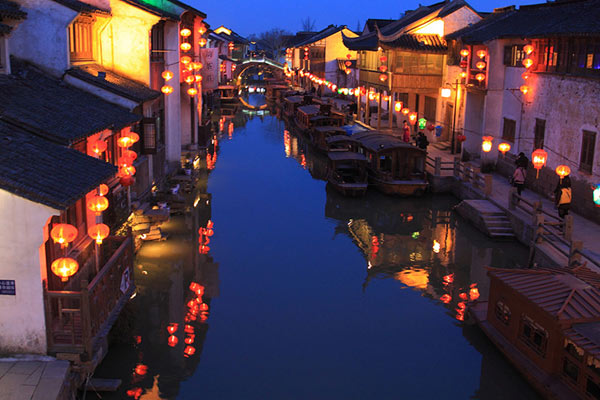 Night view of the Shantang Street, near Shantang River of Suzhou, Jiangsu province. Among the listed Grand Canal heritages, four ancient waterway branches including Shantang River are located within Suzhou.[Photo provided to chinadaily.com.cn]
China's Grand Canal, the longest artificial waterway in the world, was included on the World Heritage list on June 22.
Suzhou is the only one that submitted an application with its own regional heritage reports, according to Yin Zhanqun, deputy director of Suzhou's cultural relics bureau. The preparation work of bidding for the World Heritage site began in 2006 with joint efforts from multiple cities.
"It is a great honor for Suzhou to be part of the Grand Canal, which has just been added to the World Heritage list," Yin says. Suzhou has worked hard for years to gain World Heritage status.
Suzhou can now protect the ancient city better with advanced concepts and methods, and exploit more tourism potential, he said.
The Grand Canal, encompassing the Beijing-Hangzhou Grand Canal, Zhengzhou-Jiangsu Grand Canal and East Zhejiang Canal, stretches over 3,200 kilometers and runs through 31 Chinese cities.
The Grand Canal heritage recognized on the list includes 27 ancient waterway sections and 58 cultural heritage sites along the waterway. Among the listed Grand Canal heritages, four ancient waterway branches – Shantang River, Shangtang River, Xujiang River and the ancient moat- and seven cultural heritage sites – Panmen Gate, Shantang Street, Huqiu Tower, Pingjiang Street, Quanjin House, Baodai Bridge, Wujiang ancient canal trail- are located within Suzhou.