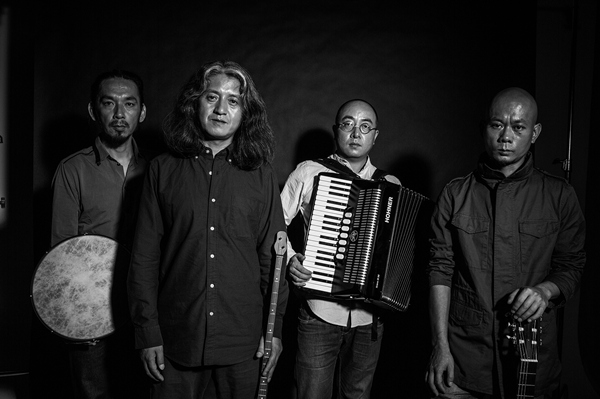 The band Wild Children is known for its fusion of Chinese folk songs played on Western instruments. Photo provided to China Daily
Wild Children, a band from Lanzhou in China's northwestern Gansu province, is legendary for its fusion of local folk songs played on Western instruments such as the guitar, accordion and harmonica.
Founded in 1995 by Suo Wenjun and Zhang Quan, the group disbanded in 2004, when Suo died of cancer at 34. Zhang, the band's lead vocalist and guitarist, left Beijing unable to bear the loss of his lifelong friend and fellow musician.
Nearly a decade later, however, Wild Children has returned under the banner of Tree Music, a Beijing-based independent record label that will produce the unnamed new album.
The new album follows the musicians' trademark style with high-pitched singing and simple lyrics. Their love for Lanzhou shines through and some lyrics are performed in the local dialect.
The band will kick off a tour featuring its older songs in Chengdu, Lanzhou, Nanjing and Xi'an from Sept 6.
"I didn't dare mention the name of the band for years because for me, everything had ended. I just sang under my own name," Zhang, 46, says.
After Suo's death, Zhang sold River Bar, a run-down venue for live music, which he and Suo had opened in Beijing's entertainment hub of Sanlitun in 2001. Many of China's famous folk musicians, including Wan Xiaoli, Xiao He and Wild Children members accordion player Zhang Weiwei and hand-drum player Guo Long, had performed there.
Zhang Quan traveled through the Tibet autonomous region before settling down in Dali in Yunnan province, where he sang some of their old songs at a small concert in 2008. It was then that the thought of restarting Wild Children struck him.
Prior to starting Wild Children, Suo and Zhang Quan had traveled along the Yellow River in Shaanxi and Shanxi provinces for more than a month, listening to farmers and shepherds sing.
"People from northwestern China sing not as a way to perform but to express. The influence has always been in my blood," Zhang Quan says. "It will never change."