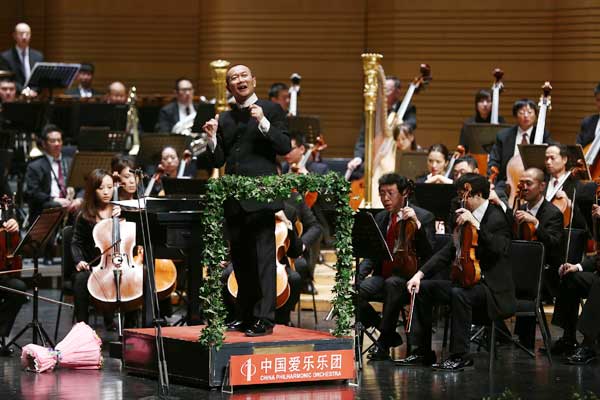 [Photo/China Daily]
Tan Dun is always ahead of the curve. Trained as a classical composer, he has created symphonies and operas, and made music with pretty much everything from water to paper. Tan has also documented nyushu, a written language only used by women in ancient China's central Hunan province and considered a dying heritage, and once worked with YouTube to organize an online orchestra.
In his latest project, Tan has used WeChat, a popular Chinese mobile messaging application, and audience chanting to enhance interaction between orchestras and audiences during live concerts in Beijing (with China Philharmonic Orchestra on July 1) and in Shanghai (with Shanghai Symphony Orchestra on July 4).
Earlier this year, Tan's long-time friend and conductor Yu Long (artistic director of both orchestras) invited him to celebrate Yu's 50th birthday on July 1 by creating something beautiful.
Tan, 57, wanted to make it "fun but meaningful".
Yu is a "thoughtful and ambitious" conductor who has devoted around 30 years of his life to promoting Western classical music in China and has tried to connect the country with cultural capitals around the world, according to Tan. Although Yu's mission has never been easy, Tan says that Yu has faced all challenges with "great wisdom and courage".
With that image of Yu in his mind, Tan kept murmuring Yu's given name "Long", when he remembered a familiar Peking Opera tune. He chanted the tune, "Long li ge long, long li ge long ... "
"It's a Chinese hippie-style chant that has pride, loneliness, helplessness and many other emotions that I think reflect Yu's own view of life," Tan told China Daily in a recent exclusive interview in Beijing.
Tan then thought of the form. How was he to present the chant?