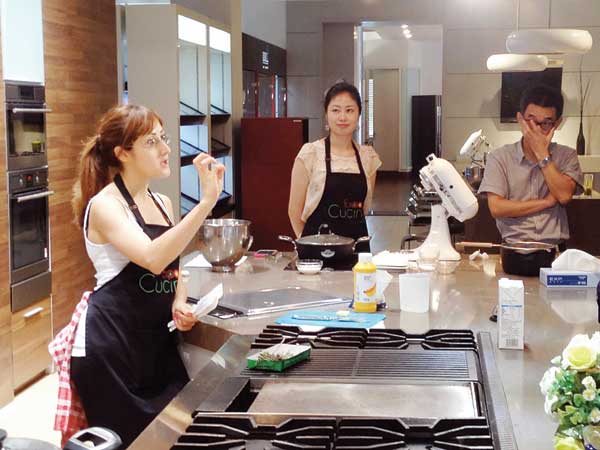 COOKING 101: Class members are transfixed as instructor Daniela Ingrosso (left) explains the process. [Photos by Antony Otera/Shanghai Star]
Recreating your favorite Italian restaurant dish at home is as easy as pie, courtesy of Expat Cucina's cooking classes. Antony Otera dons an apron to learn how to cook Italian-style ribs.
The word simplicity is so often associated with Italian cooking that it's hard to imagine that anyone could be intimidated by the prospect of boiling a pot of water to make pasta or baking a palatable pizza.
Yet Italian expat Daniela Ingrosso, who runs the Expat Cucina cooking school from a state-of-the-art kitchen showroom in Xujiahui in Xuhui district, says that — despite a curiosity to know how to reproduce at home the flavors and textures of popular Italian meals they have either eaten at a restaurant or heard about — some Shanghainese, and expats, are a little fearful to try their hand.
"What I've discovered in my classes is that a lot of people are intimidated by cooking," Ingrosso says. "They think it's very complicated. But once they get themselves to class, they see that it's not actually that hard and that they just need to follow a few steps."
Of course, it helps if you have a good instructor, like Ingrosso.
Ingrosso, from Lecce in Puglia, in the south-east of Italy, was first turned on to cooking by her Sicilian grandmother with whom she spent much time during her childhood years, as both her parents worked full-time.
"My grandmother, who was a great cook, used to live nearby. I always watched with fascination the way she handled things in the kitchen," Ingrosso recalls.