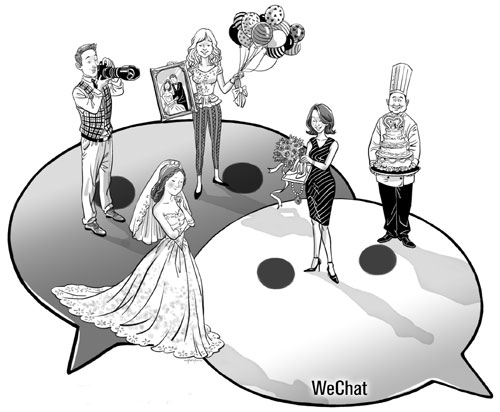 Li Min / China Daily
Some days, the beeping of incoming messages gets overwhelming, but technology does facilitate quick communication at little cost. Tiffany Tan writes.
I resisted as long as I could, but two months ago, I finally threw up my hands and became one of WeChat's 400 million users worldwide. For almost a year prior, I'd gotten used to receiving quizzical looks from both locals and foreigners whenever I told them I didn't use China's most popular messaging app.
Last summer, out of curiosity, I actually installed it on my mobile device. Five minutes after signing up, I was inundated with around 40 "friend requests", some from people I'd already removed from my phonebook. I quickly closed the app and de-registered my account.
As a reporter, I have to keep an eye on text messages and e-mails from interviewees, editors and readers. I also monitor stories on various websites and news feeds, as well as keep up with friends and family on social media - with their own messaging apps. Once in a while, I receive instant messages on Gchat, Skype and Yahoo!
Did I want to juggle, on top of all these, another communications platform? Not really, especially since I needed uninterrupted quiet time for writing.
I continued to say no to WeChat even after friends in Beijing told me it had become the best way to know of gatherings within our circle.
"Whatever happened to text messaging?" I thought. "Wouldn't even the small cost of an SMS mean that your friends really want to get a hold of you?"