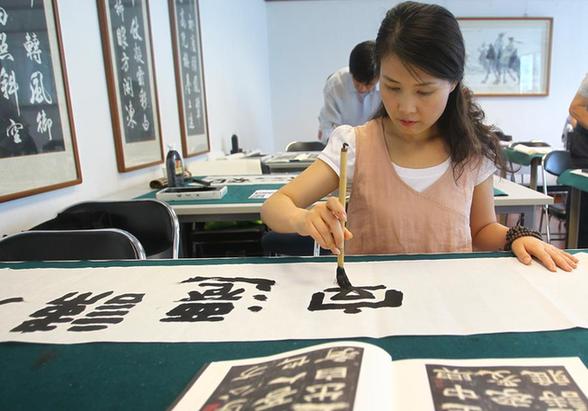 ROK students learn calligraphy at a Chinese culture center in Seoul, June 28, 2014. [Photo/Xinhua]
SEOUL- The Republic of Korea (ROK), which was deeply influenced by Chinese culture and tradition in history, is pining for a new touch on the pulse of Chinese mainstream culture and digging into different aspects of the rapidly emerging neighbor.
Shortly before Korean TV series "You Who Came From the Stars" got popular in China, Chinese TV productions like "Steps in Danger," "Palace," "King of Lanling" were also rallied around by numerous big fans in the ROK.
The books of Yu Hua, Mo Yan, Su Tong and other contemporary Chinese writers frequently appear on Korean publishers' list and are sold in most bookstores there. The Korean edition of the novel "Chronicle of a Blood Merchant" by Yu Hua was even recommended as one of the 100 must-read books by South Korea's Joongang Daily.
In the mean time, many South Korean people are eager to get a bite of the Chinese culture that is both new and a deja-vu to them. Since the China Cultural Center debuted in Seoul in 2004, people thronged to register in the classes of calligraphy, Tai Chi, the Chinese language and lately the classic Dunhuang Dance. The country is home to 17 Confucius Institutes.
People-to-people exchanges have been flourishing with about 200 visits of cultural groups to each other's country each year, covering Beijing Opera, acrobatics, symphony orchestra, musicals, ballet, drawing exhibits, and national treasure exhibits.
According to China's Ministry of Education, of the 290,000 registered overseas students in China in 2011, South Korean students accounted for 21 percent, making up the largest portion.
"Although China and the ROK set up diplomatic ties just 22 years ago, cultural exchanges have been enjoying a robust momentum with remarkable fruits, huge potentials and wide prospects," said Chinese Cultural Counselor to South Korea Shi Ruilin.
China and South Korea signed a pact on cultural cooperation in 1994 which helped bilateral cultural exchanges enter a stage of healthy and orderly development.