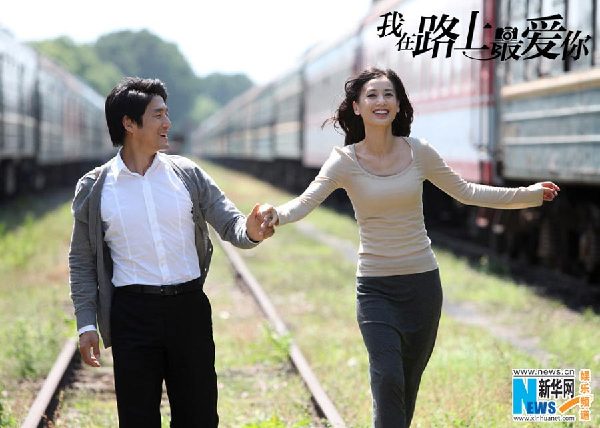 Still photos of upcoming film "I Love You the Most on Road," starring actor Wen Zhang and actress Huang Shengyi (R), were released. The film will hit the screen on March 28, 2014. [Photo/news.cn/ent]
A China-South Korea co-production that premiered today in China stars mainland actress Huang Shengyi.
I Love You the Most on Road, a 3D romantic comedy, also recruited the 3D technicians behind Tsui Hark's The Flying Swords of Dragon Gate, which was released in China in 2011 and the United States the following year.
Featuring tourist destinations in South Korea and China, including Seoul, Jeju, Yunan and Beijing, the film tells the story of Huang's character and two men she encounters on a train. The male leads are played by mainland actor Wen Zhang, and South Korean actor Ji Jin Hee, who acted opposite Zhou Xun in Perhaps Love.