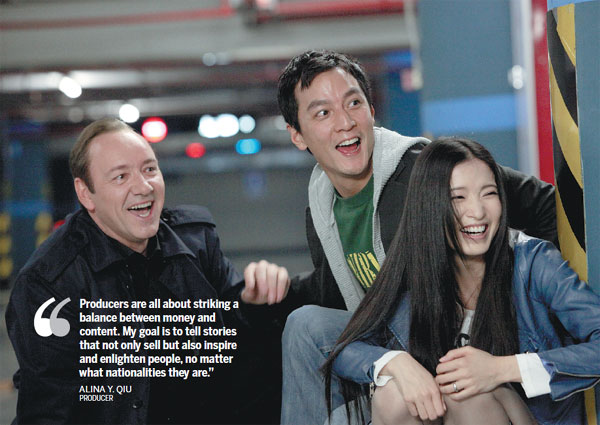 Inseparable, starring Oscar-winner Kevin Spacey (left) and Hong Kong actor Daniel Wu (center),is one of the few Hollywood-type Chinese-financed films. Photos Provided to China Daily
Alina Y. Qiu has come a long way since stumbling into the shoes of a producer by accident. She shares her views on combining Chinese and Hollywood productions with Liu Wei.
With her experience in both China and Hollywood, Qiu Yan - aka Alina Y. Qiu - has found producing films in between to be harder than she thought.
Qiu became a film producer by accident.
Not long after graduating from college, the Beijing native decided that the typical white-collar career path at a Fortune 500 company was not her passion. In 2002, while planning a soul-searching trip to the south of China, she received a call from a professor at Beijing Foreign Studies University.
It turned out that Quentin Tarantino was going to film Kill Bill Vol. 1 in Beijing and the set was desperately in need of bilingual staff members to do coordination work.
His crew turned to college English teachers for help. Knowing nothing about filmmaking but needing money for the trip, Qiu took the offer.
Initially, she worked at the production office but later was sent to different departments whenever there was a shortage, including a two-week assignment to assist Tarantino on the set.
After eight months of what she calls "an extended summer camp", she realized she had found her career direction.
"The experience opened my eyes and changed my life," she says. "And it was so much fun."