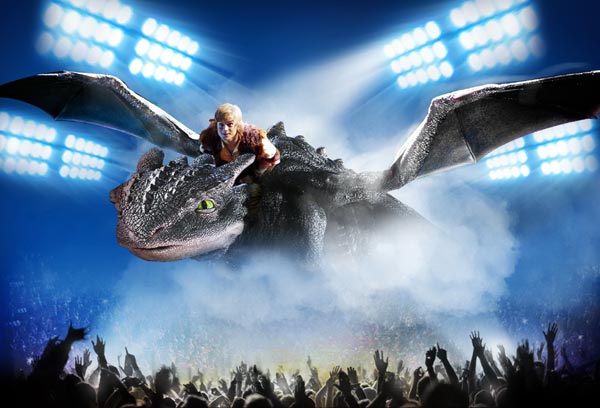 A scene from DreamWorks'audio-visual show How to Train Your Dragon Live Spectacular. Provided to China Daily
Fire-breathing dragons from DreamWorks' 2010 film How to Train Your Dragon will come to life and soar over the newly built theater adjacent to the Birds Nest, otherwise known as the National Stadium, this summer.
DreamWorks' How to Train Your Dragon Live Spectacular, a show inspired by the movie, is expected to have a six-month performance run in the capital.
The audio-visual show, created by DreamWorks Animation, is a live event featuring more than a dozen life-sized dragons, some with wingspans of up to 14 meters.
The production features Viking warriors played by a foreign and local cast and circus artists and acrobats. The cast will arrive in China and rehearse for the official launch later this month. The audition for the Chinese cast took place on March 10.
The show will hold four to eight performances each week starting in July.
Nominated for two Academy Awards, the 2010 blockbuster How to Train Your Dragon grossed nearly $500 million at the global box-office and was among the top 10 highest-grossing films of that year. It was then adapted for an arena show, which has toured Australia, New Zealand, the United States and Canada.
The show will be identical to the shows overseas, except the dialogue will be in Chinese, according to Jeffery Katzenberg, CEO of DreamWorks Animation.