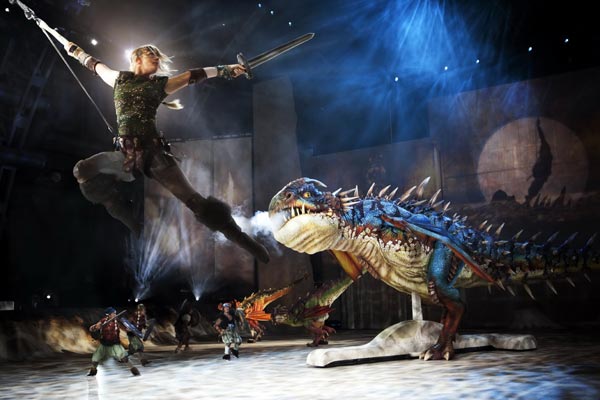 A scene from DreamWorks'audio-visual show How to Train Your Dragon Live Spectacular. Provided to China Daily
Five years ago, DreamWorks attempted to explore the live show market in China by bringing the show Walking with Dinosaurs, but the tour was not successful.
Katzenberg says this time the strong narrative of How to Train Your Dragon will offer a different experience to the audience.
DreamWorks Animation and Yurun Group have formed a partnership for this production. DreamWorks is in charge of creation and production and Yurun is responsible for management and marketing. The project is part of the efforts of Yurun Group Co Ltd, one of the leading food-processing companies in China, to invest in more cultural and entertainment projects with overseas partners.
The collaboration also signals a desire for Chinese firms to work with global entertainment leaders to present Chinese audiences access to live entertainment.
"The agreement with DreamWorks Animation is vital for Yurun Group's mission to enter the popular cultural industry and build up our global prestige," says Zhu Yicai, chairman of Yurun Group.
The group has been planning a high-end project to enter the cultural industry for three years.