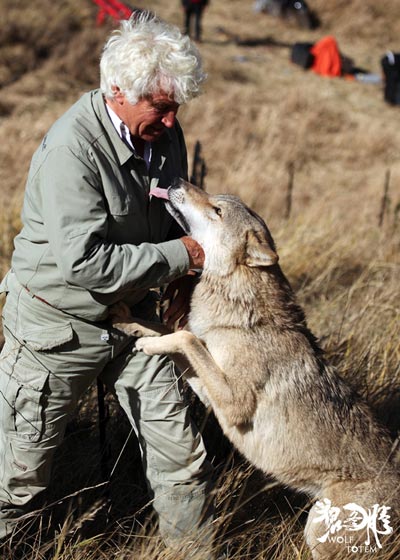 Working with wolves poses a great challenge for director Jean-Jacques Annaud in Wolf Totem, a movie adapted from a Chinese best-seller. Photo provided to China Daily
Though clear about the difficulties, Annaud insisted from the first that the film must cast real wolves, not dogs or other substitutes.
When animal-trainer Simpson got the invitation from Annaud, his first sentence was: "I knew you would call me."
"I read the book, and I knew the filming was going to happen, so I was sure he would call me one day," Simpson recalls.
Simpson has been training animals for more than 20 years and has worked on US films like Braveheart (1995) and Eight Below (2006). In 2012 he filmed the training of wolves for the French film Loup and produced a documentary called Wolves Unleashed.
"Wolves are one of the most difficult animals to train," Simpson says. "They are not trusting or understandable. The only way to build their trust is to spend time with them, long enough for them to forget to care about your existence and that of the camera."
Simpson lived with the wolves in China for almost three years since the beasts were babies so as to build an emotional bond with them. In fact, he was the first thing the wolves saw when they were born.
He also required Feng and another actor, Shawn Dou, to spend extra time with their wild colleagues. The two had to sit in the camp with the wolves for at least one hour every day.
"It was like meditation in Buddhism," Feng says, smiling. "At first I didn't get it. But Simpson told me although the wolves seemed not to be noticing you, actually they were observing you while they were playing and eating, and making sure you are not a threat."