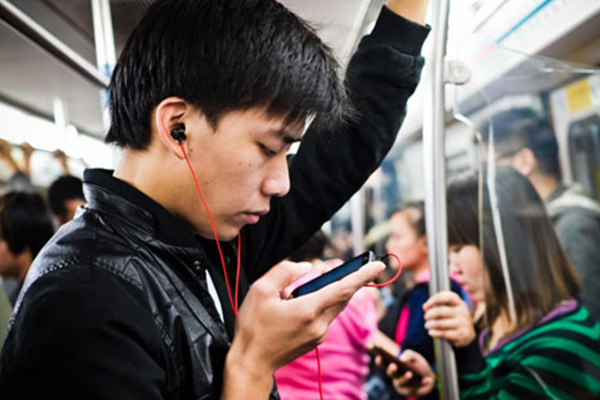 A man plays with his smartphone on the Beijing subway, Nov 2012. [Photo/Xinhua]
More than 92 percent of China's netizens surfed the internet with smartphones by the end of 2015, indicating that the market for internet gadgets in China is leaning further to mobile terminals, according to figures from the China Internet Network Information Center (CNNIC).
The latest report by CNNIC, released on Wednesday, shows that China's online population reached 710 million by June, growing by 21.32 million during the first half of 2016, an increase 1.3 percent higher compared with the end of last year.
The growth rate is 3.1 percent higher than the global average and 8.1 percent higher than the Asian average.
The proportion of those who access the internet via smartphones reached 92.5 percent from 90.1 percent last year. About a quarter of web users in China do so only with smartphones.
The report attributes smartphones' dominance to improved mobile communication networks and the popularity of smartphones, which lead to wider use of mobile apps that to cater people's daily needs.
On the other hand, smart televisions have become an emerging gateway, with 21.1 percent of netizens in China accessing the internet through the devices, 3.2 percent higher than the end of 2015. Meanwhile, the proportion of users of desktops, laptops and tablets has dropped respectively, by 3.1 percent, 0.2 percent and 0.9 percent.
There is also huge potential for the internet industry in the rural regions. The report shows that the total number of rural internet users increased to 191 million in the first six months, only 27 percent of the total netizen population.
The gap is caused by a lack of internet and computer knowledge, the report said. The main reasons for not using the internet listed by surveyed subjects in rural areas include "knowing little about computer/internet" (68 percent), "too old or too young to use the internet" (14.8 percent) and "uninterested or unnecessary" (10.9 percent).
Governments in rural areas are advised by the report to provide related training for local residents and to roll out necessary measures and services to guide non-netizens to start using the internet.