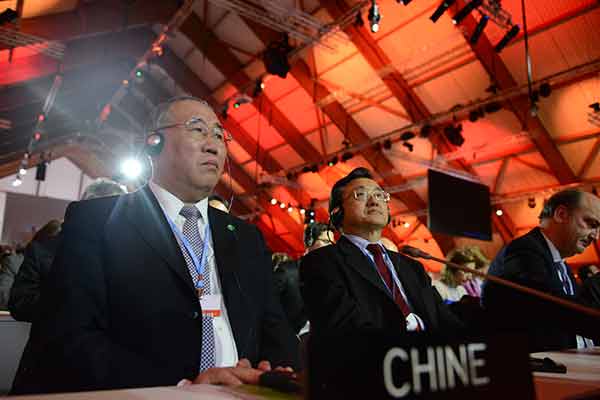 Delegates from 195 countries agree on a global deal to reduce greenhouse gas emissions.[Photo provided to China Daily]
PARIS - China called for implementation on Saturday after a historic deal was sealed in Paris on global efforts to combat climate change.
The Paris agreement on climate change was adopted with no objection by the 196 Parties of the United Nations Framework Convention on Climate Change (UNFCCC) during the 21st session of the Conference of the Parties (COP21) hosted by France.
"The Paris Climate Conference is a crucial point in the global climate governance process. The outcome has a bearing with the undertaking of climate change of the human being and our future of sustainable development," China's Special Representative on Climate Change Xie Zhenhua said after the adoption of the Paris agreement.
Xie stressed that China, as a responsible developing country, will take international obligations commensurate with its own national condition, development stage and actual capacity.
"Although the agreement is not perfect, it does not stop us from moving a historical step forward," Xie said, calling on developed countries to abide by their promises to provide finance, technology development and transfer, and capacity building to developing countries.
"China is willing to work together with all parties, in accordance with the principles of the UNFCCC, toward implementing the Paris agreement and establishing a global climate governance system for win-win cooperation," Xie affirmed.
As the weeks-long negotiation in Paris entered its final stretch, Chinese President Xi Jinping made a last-ditch effort on Friday with his U.S. counterpart Barack Obama to seek a global deal.
In phone talks with Obama, Xi said that China and the United States need to strengthen coordination and work together with all parties to ensure that the Paris climate conference would reach an agreement as scheduled, which would be in the interest of the international community.
Hailing the Paris agreement as "what was once unthinkable is now unstoppable," UN Secretary-General Ban Ki-moon said it demonstrates solidarity.
"For the first time, every country in the world has pledged to curb emissions, strengthen resilience and join in common cause to take climate action," Ban said.
"You have concluded not just any agreement. It is an ambitious, universal and legally-binding agreement," French President Francois Hollande told the ministers and negotiators from the 196 parties of the UNFCCC.
"There is no progress with risks, no progress without ordeals. History is written by those who engage, not by those who calculate," he added.