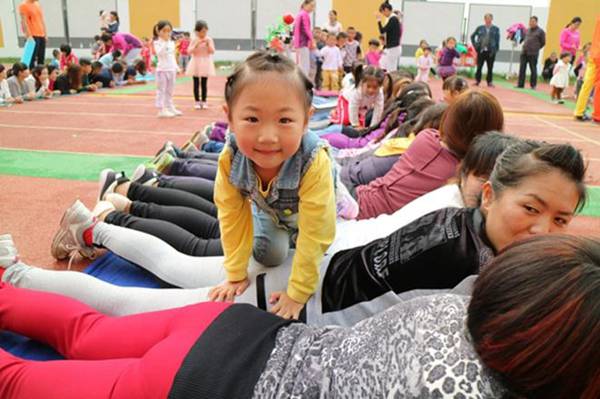 Children spend a fun day with their parents at Lugang Kindergarten in Xi'an, Shaanxi province, on Oct 23. [Photo/itl.gov.cn]
Investment on children, especially their education, ranks atop a list of priority items that a typical Shanghai family is most willing to pay for, a survey has found.
Nearly 40 items made the list that covers the needs of people at different stages of their life, ranging from getting married to bearing and raising a child to caring for the elderly. Of them, the top six are all related to children, according to the poll conducted by the Family Development Research Center of Fudan University.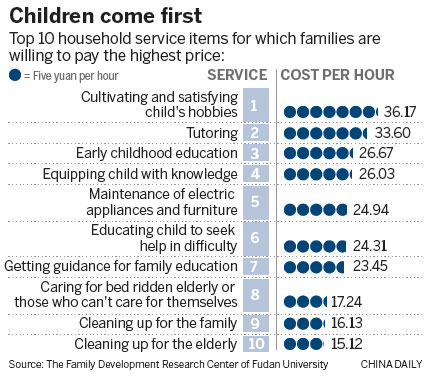 Cultivating a child's hobbies is ranked at the top of the list, with tutoring coming in second and early childhood education taking third place, according to the survey, which polled nearly 2,300 households in Shanghai.
While a couple usually would be willing to pay excessively for the benefit of their children, they often set aside their own needs, said Shen Yifei, director of the research center, adding that many couples also have to take care of elderly family members.
The poll was published on Friday at the opening ceremony for the research center, which is dedicated to solving problems that families face, offering advice, and providing suggestions for the country's family development plan.
Shanghai is the country's first major city to face an aging society, with the number of its residents age 60 and above currently at 4.14 million - or nearly 30 percent of its population, compared with 15.5 percent nationally.
The survey findings could be applied to other parts of the country to help them solve similar problems, such as a rapidly aging society, said Zhu Meihua, a professor at the department of social work at East China University of Science and Technology.
Experts said it's understandable that many Shanghai families are willing to spend more on their children, because of the city's low fertility rate.
"The current fertility rate is 0.79 in Shanghai, one of the lowest in the world. That is why a child's needs always come first," said Hu Zhan, an associate professor at the School of Social Development and Public Policy of Fudan University.
Zhu said, "Chinese people's deep-rooted belief that a child bears the future of the family often makes the child the focus of the family's financial support."
However, Hu said a couple should care for their children rationally, not at the cost of their own career prospects or relationship, which Hu said is the cornerstone of society.
"There are many examples of mothers quitting jobs to take care of their children around the clock. It's like gambling," he said.
zhouwenting@chinadaily.com.cn