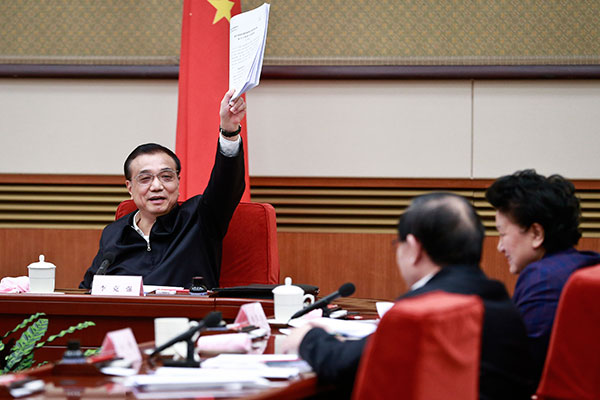 Premier Li Keqiang at a meeting on the country's educational strategy during the 13th Five-Year Plan (2016-20) in Beijing on Thursday. FENG YONGBIN/CHINA DAILY
Government to strive to bridge resource gap between country's rural and urban areas
Premier Li Keqiang vowed on Thursday to guarantee equality and quality in the education system by deepening reform in the next five years.
The government will strive to bridge the educational resource gaps between rural and urban areas to make sure that more students, especially those in the less-developed middle and western regions, have access to better education, Li said.
The premier made the remarks while attending a meeting to map out the blueprint for the country's education during the 13th Five-Year Plan (2016-20).
The proportion of rural students should be increased in the enrollment of universities, and students from poor families should have equal access and hopes of moving upward, he said.
The government will attach more importance to education quality and support some key universities in becoming competitive worldwide, Li said.
The premier pointed out that the government should establish a platform for international scientific cooperation and attract both domestic and overseas talents to come for scientific research.
Unlike in the past, when the economic growth relied heavily on the consumption of natural resources, China's development should rely more on the country's human resources, Li said, adding that education plays a key role in improving the qualities and abilities of the workers.
Innovation is the key to China's economic growth in the following years, and the government will focus more on mass entrepreneurship and innovation, he said.
The Ministry of Education started implementing a policy from 2012, asking good and prestigious universities across the country to recruit a certain number of students from impoverished areas each year. A total of 10,000 students were recruited under the policy that year.
The number increased rapidly, to 69,000 students, in 2014, allowing more students from impoverished areas to receive the best higher education in China, according to the ministry.
Zhao Lanxiang, director of the Institute of Policy and Management under the Chinese Academy of Sciences, said the policy taken by the government is making a difference.
"It's sending a strong signal that the government is determined to promote equal access to education," Zhao said. She added that a survey conducted by the institute found that more than 80 percent of the universities and more than 90 percent of the students involved were positive about the policy.
"It's also adding to the confidence of the students from impoverished areas, as they now have more opportunities to gain admission to prestigious universities, which used to be beyond their reach," Zhao said.
An Baijie contributed to this story.
Contact the writers through zhaoxinying@chinadaily.com.cn